Marble pavers for pool deck
Pavers for pool deck

Different forms of marble are taken into consideration for pool decks and they are typically made up of soft tumbled marble pavers that are lightly textured rather than shiny
After limestone be exposed to extreme pressure and temperature marble stone forms, and that is because of its formation process that marble pavers could endure harsh weather conditions and it can be damaged only if water gets trapped inside, as during the freezing condition water would fill more space. The cycle which is formed from sun, rain, and winds also deteriorates this condition too. The durability of pavers will depend a lot on the type, but usually, they can last up to 100 years, and whenever anything happens to their surface, they can be repaired easily by just replacing a tile.
Best pavers for pool deck
Marble paver
naturally conducts heat and also as it is dense, it takes more energy to just warm up a small piece of marble, it means when it is scorching outside, heat quickly dissipates through the stone, so marble does not feel any warmer. So they can keep certain areas of pool decks cool enough to be practicable. Even though marble is a natural stone, it is not recommended for outdoor use, as its unique patterns and rich colors will enhance the look of any outdoor pool area and they can transform any dull and plain space into something luxurious and elegant. Apart from the abovementioned merits that are offered by them, marble pavers are also reliable materials one can use for paving around pools, and when they are sealed properly, marble will not stain or fade, which means that pool decks will look the same after a decade as it looked the first day.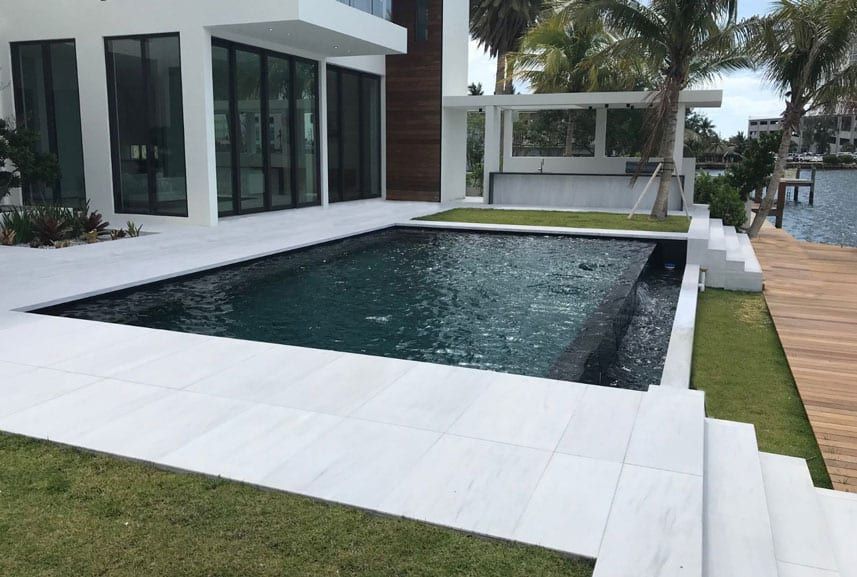 Although one might consider marble pavers as those with a price tag on them, they sure are worth it. One of the most important things that every designer and homeowner should consider before going for an option should be how it will look after installation.
After any renovation or improvement project, it is important to consider the aesthetic value the project will add to your home. Their elegance and beauty cannot be compared to other materials used for making pool decks. Installing them can have a major effect on the appearance of your pool area and even increase the value of your property significantly.
Marble
pavers are also believed to be bacteria-resistant, which means they will prevent the thriving of any harmful elements in the pool area. Since many years ago, artists have been using marble in their buildings and that is not just because of the beauty of this material but also because of its durability.
Marble pool deck

Different forms of marble are taken into consideration for pool decks and they are typically made up of soft tumbled marble pavers that are lightly textured rather than shiny. They also provide a strong grip which is helpful to prevent slipping and falling incidents, and because of their texture, they will also pull beautiful transitions in color as the sun hits your pool deck.
Marble pool decks are also highly popular, as one can rely on marble for a bit of natural beauty around your pool. Moreover, there are a variety of ways that one can use them to match their personal style. It must also notice that how the material will react with the temperature and the environment, especially in the typically hot and humid days experienced in the northern section of Australia.
Based on the characteristics of marble stone, that is it will remain cool to the touch of the bare feet walking all around your pool, it will be sure to see a lot of use and be functional. Marble does not absorb heat and, after its installation, you do not have to worry about how its surface will change over time. More importantly, Marble pavers do not need much care, and they are easy to maintain and soapy water and a mop will be the only requirements to wipe them clean.
Overall, taking advantage of marble would bring a bit of natural beauty to your pool. Moreover, in
hunterpavers
marble pool deck is available in a variety of colors which means it comes in shades of brown, cream, and silver. And as the value is considered, it can increase the value of your property compared to other pool deck materials. Despite our best efforts, we couldn't think of anything we didn't like about this marvelous material, however, not everything about marble can be positive and there are a few drawbacks to marble. Because of the fact that it directly relates to pool decks, it can get slippery when wet and one should be careful about that.
To take it another way, as you splash water onto the marble from the pool when you get out of the pool, it can cause your pool deck to get slippery, which makes it a little dangerous especially with running children around. As a common pool deck, this isn't necessarily an issue but when it comes to a pool party it's a good idea to try to avoid spills and clean up any directly whenever they happen. Furthermore, as a luxury item, using marble pavers may come at a higher cost initially but because of the plethora of merits, it is worth going for that instead of other materials. I
n the past, people used to conventionally go to the market and search for their desired item, but today, you can order your item conveniently through
online shopping
, and as you contact reputable suppliers you can ensure to get what you exactly want. If anything happened to the surface of your marble that couldn't be wiped out easily, for light options you can use bleach or Peroxide, and for the types of diluted Ammonia, bleach, Peroxide could be considered.