Why is Travertine so popular?
Travertine is very heavy which stems from its durability, meanwhile, it is porous and therefore it requires regular sealing in order to inhibit liquid penetration.
The places where we use travertine
Travertine is mostly a flooring material that is sold in tile form and is found in a variety of earth tone colors from brown to beige. Travertine is very heavy which stems from its durability, meanwhile, it is porous and therefore it requires regular sealing in order to inhibit liquid penetration. Individuals from different parts of the world tend to take the advantage of this popular natural stone to add a unique beauty to their spaces. Although travertine is a very popular, and spectacular item it is a mid-range stone in terms of cost. Travertine comes in different finishes, and each of them is popular for different purposes. Moreover, as it is laid in tiles, in case any type of damage happens on its surface consisting of scratching or staining, the surface could be replaced conveniently. Designers with different architecture styles use them commonly as they add a sense of prestige to the area. Similarly, the dominant energy from its surface grabs the attention of anyone towards it, and with mild tones found swirling in its hazy, shifting surface effects there would be no doubt regarding take the advantage of them. Travertine maintains a reserved dignity that is much more subtle than different natural stones like marble or granite, and without overwhelming a room with dramatic colors, travertine tiles can easily add to the value of houses.
Reasons of travertine popularity
As natural stone travertine is highly popular among anyone who wants to create an eye-catching view in their surroundings. Travertine is classified properly as a type of limestone, and like marble, travertine is formed from the precipitation of calcium carbonate. One crucial discrepancy that travertine and other natural stones have is the fact that it forms from rock. Therefore, the surface of the travertine is covered with pits, so the stone looks antique and weathered. One of the main reasons that make travertine a popular item is, travertine comes in different color hues like beige, tan, and silver, so it goes well with different styles and tastes. Meanwhile, along with its formation process, travertine harmonizes with water and provides a non-slippery surface. Another advantage of travertine is its flexibility as it perfectly matches with interior design and stands well with exterior conditions. From floor to facades, like in kitchens, entrances, and pool decks travertine would be a focal point in your space. As well as different finishes, travertine could be installed in different patterns like French patterns. Its natural look along with its unique earthy hues would add a rustic charm to your houses. Another reason that makes travertine very popular is that it can add an extra appeal to your area. Moreover, these popular natural stones are long-lasting and easy to maintain. Even if travertine flooring gets hard beats, over time there would be no serious damages on its surface, and even in case it gets weathered it can only add attractiveness to them.
The applicability of travertine
No matter where to use travertine from interior to exterior applications, they would be flashy items. In interior designs, they are mostly used as backsplashes, counterparts, and floorings. Their maintenance process is not complicated, and only by the use of non-acidic and natural cleaners, they might stay gorgeous for a long time. Meanwhile, travertine tiles are highly demanded in kitchens. This stems from the fact that kitchens are prone to messes, and it is much easier to clean natural stone like travertine than synthetically produced materials. Moreover, travertine floorings have long been regarded as the symbol of uniqueness, and even though many people are of the idea that they are outmoded, they still look sharp in modern projects. Travertine is mostly used in tile forms, and its color palettes from neutral to strong colors make it a very smart choice.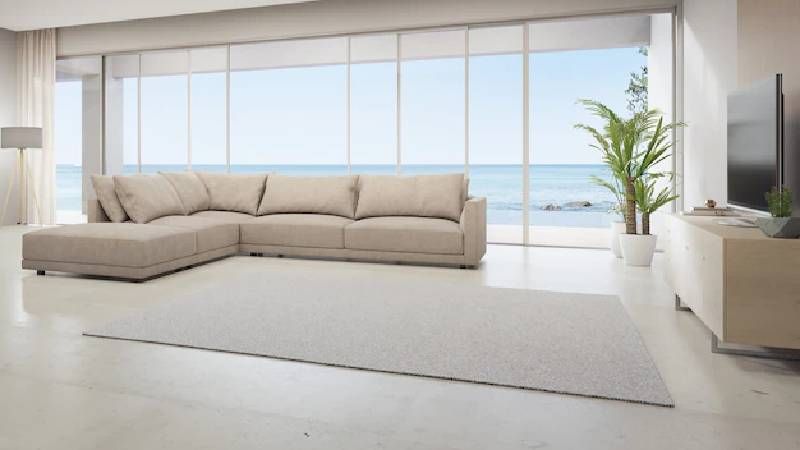 Travertine is an iconic item in houses
Without a shadow of a doubt, travertine can turn any outdated design into a more rustic and iconic one. And human beings intrinsically go for the items that make them feel better, and even though there are still people who do not care much about their surroundings, the majority of them are looking for a focal point in their area. Therefore, the color palette, its look, the final finishes, and also the fabric itself are key roles regarding the choice of natural stones. These factors are very important because the practicality and also appearance of rooms are of great importance. Moreover, for different rooms, different characteristics are bolded to be taken into consideration. For example, in bathrooms or kitchens, a non-slippery surface would be the priority. In these cases, honed or bush-hammered travertine finishes become more popular. However, recently synthetic materials, as well as natural ones, are used dominantly in such areas. And from budget to taste of individuals different materials would be considered. But, travertine tiles are developed over time and offer an antique and rustic look with their spectacular finishes, and in contrast with synthetic items they can be used to make a focal point in houses.
The popularity of travertine in houses
In hot weather conditions, many opt for travertine as they are cooler than many counterparts including concrete ones, the quality and its porous nature give it such characteristic. The naturally porous surface of the stone means it fits well with safety requirements as individuals are not going to worry about hot summers. Surprisingly, travertine tiles are non-slip and simply by regular sealing, the surface would be protected from molding and deteriorating. But when its surface is wet, the situation might change and people should worry about the slippery surface that might form under their feet in order to inhibit any sort of accident. One solution to prevent such problems is the implementation of a non-slip coating. Overall, it is not a very hard choice to take the advantage of travertine, as it looks spectacular, and travertine is extremely advantageous when it comes to design, however they are more expensive than synthetic materials. Another reason for the popularity of travertine is that they will stay intact even when they are weathered or when they are used in hot weather conditions or in exposure to fire. Intriguingly, they do not fade away as time passes and they can tolerate weathering and erosion.
The spectacular characteristics of travertine
Travertine forms by rapid precipitation of calcium carbonate, the material which is known as calcite. By the combination of many minerals with the calcite, unique swirls are created and their movements give the travertine its distinctive look. Travertine tiles always give a sense of elegance to both interior and exterior design and their sophisticated and paradoxically warm surface make them so trendy in patios and stair treads. Meanwhile, in case they are used as paving materials, in contrast with precast pavers and concrete ones they will still look sharp and practical even after a century, so it will probably outlast the life of the building. It is among the most durable and rugged natural stones and by just sealing travertine every two years you will make sure that it will stay looking fresh and will be kept from damages.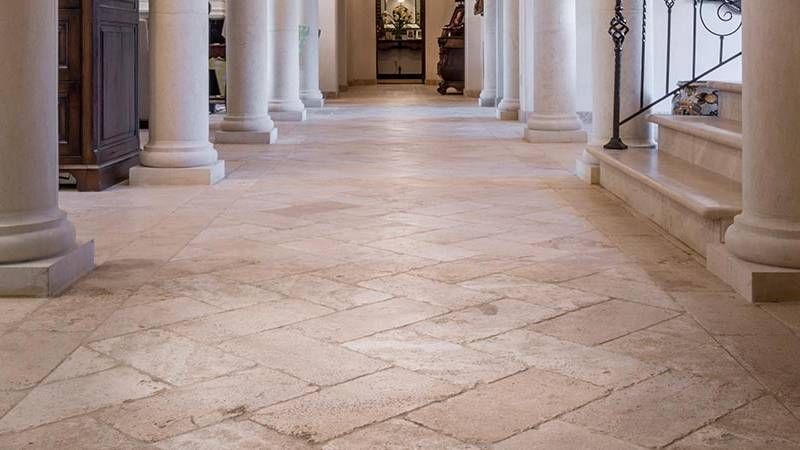 The practicality of travertine
Travertine tiles are found in different finishes to help you achieve the look you are going for, and therefore they are trendy and commonly used materials. Meanwhile, it is totally easy to maintain travertine from different sorts of damages, and by just regular sealing, and worry not to pour acidic materials on their surface, the stone would have its rustic and iconic look even after decades. As they can tolerate extreme weather conditions, these popular items are used in patios and garden pavers commonly. Travertine tiles are durable because they are resistant to heat and are non-flammable so in addition to adding value to your home they can withstand significant changes in temperature that are prone to happen by putting a fire pit on their surface, or in case you are living in the areas where the temperature swings happen. With an antique touch of these popular stones that occurs due to this stone's timeless appearance, travertine is used effectively to turn any dulling area to a more charming one.
Travertine and other natural stones
Travertine is a limestone that forms around minerals deposits, so, not only it is highly durable it offers a myriad of benefits to the customers. Travertine is found in different colors including brown, rust, and beige which makes it very spectacular, and its durability makes it very popular as a paving material. By the use of travertine, individuals can enjoy the mountain-born beauty in their surroundings, and simultaneously ensure a durable and long-lasting surface. Interestingly, despite a plethora of advantages that are offered by travertine, these fabulous items are mid-range stones in terms of costs, the fact that persuades some people to ignore the beauty of them in their houses. Meanwhile, their porous nature means they do should be maintained properly in order to prevent damages to their surface. The most important way to protect them from scratches, and stains are sealing. However, many argue that maintaining Travertine is paradoxically both complicated and simples, as the porous nature of Travertine allows spilled liquids and staining agents to penetrate its body. But by just regular sealing process people can control and prevent such damages. Meanwhile, in case travertine counterparts that are covered by standard sealants are used in houses, it is so rare to face scratches, cracks, and chips on the surface of them.
Travertine and its natural beauty
The hazy, and shifting characteristics of the travertine mean people can enjoy the ultimate beauty of nature from the earth in their houses. That is why from a couple of decades ago individuals from every corner of the world have opted to add a sense of age and prestige to their houses by the use of popular travertine products. The popularity of travertine is up to the point that even its cost or even a little time-consuming maintenance process do not persuade people not to go for them. These fabulous items are found almost everywhere, in different finishes with different qualities for different purposes. From all the finishes that are available in the market natural-finish pieces of them are more resistant to damages than other ones, and their maintenance procedure would be less time-consuming. Moreover, in case any sort of crack or scratches happen on the surface of travertine, they could be replaced easily by new tiles easily, and therefore, in case any sort of damages happens on the surface of such popular items, they could be replaced by new items immediately.