Is Travertine difficult to Maintain?
Travertine is a limestone that forms around minerals deposits, and because of that, it offers a myriad of benefits to the customers. Travertine is found in different colors including brown, rust, and beige which makes it very spectacular, and it is durable enough to endure different conditions.
Why use travertine?
Travertine is a limestone that forms around minerals deposits, and because of that, it offers a myriad of benefits to the customers. Travertine is found in different colors including brown, rust, and beige which makes it very spectacular, and it is durable enough to endure different conditions. And simultaneously enjoy the mountain-born beauty in your surroundings. Interestingly, despite a plethora of advantages that are offered by travertine, these fabulous items are mid-range stones in terms of costs. However, as porous stones property owners should always be concerned about maintaining travertine, for example, they should seal the surface of travertines in order not to damage the stone in the long run. It is said that maintaining Travertine is paradoxically both complicated and simples, and this stems from the fact that the porous nature of Travertine allows spilled liquids and staining agents to penetrate its body, along with the abovementioned details by a regular sealing process people can control and prevent such happening. Moreover, in case you have installed travertine counterparts in your areas you will hardly face the condition in which scratches, cracks, and chips have happened on the surface of your travertine kitchen floor as long as you have used standard sealants.
The natural look of travertine
From many years ago travertine tiles have been very popular among families in different parts of the world and as they add a sense of age and prestige to every area that take the advantage of them, no matter how hard maintaining travertine would be, people do not hesitate to go and buy their desired fabulous items. With the hazy, and shifting characteristics on the surface of the travertine people can enjoy a nature-formed work of earth art in their homes. Travertine tiles are found almost everywhere and based on the quarries from where these iconic items are brought, and the manufacturing brand maintaining travertine will become an easy task. Natural-finish pieces of travertine are more resistant to damage than polished or honed ones, and therefore individuals are supposed to spend less time regarding maintaining travertine. Moreover, in case any sort of crack or scratches happen on the surface of travertine, they could be replaced easily by new tiles easily, and therefore, in case you did not do a great job in maintaining travertine, you can still enjoy your desired look.
Why travertine should be maintained?
In comparison with many materials, travertine is considered an eco-friendly item, as it does not require a manufacturing process. Travertine tiles are resilient, and they can tolerate extreme weather conditions without significant damage to their surface. Therefore, they can be installed in exterior and interior designs even in scorching heat as long as maintain travertine tiles appropriately. It's naturally non-slip as it has holes and pits, the qualities that make them ideal in wet areas like in showers or on pool decks. Many consider the porous nature of travertine as its most important cons because in case travertine is exposed to air and moisture, the holes on its body may tear after a while so maintaining travertine in exterior areas is of great importance as its surface may tear in the long run. Maintaining travertine, in this case, will become even more important in case people do not enjoy worn or torn surfaces. By regular sealing, polishing, or even by the use of special powders travertine surfaces could be maintained properly. Another characteristic of travertine is its sensitivity towards acidic substances, and in case anyone accidentally spills any sort of oranges on the surface of them, there would be a risk of permanent stain, so regular sealing of travertine is one of the most important actions regarding maintain travertine surfaces. And neutral and natural cleaning agents are the best choices for cleaning them. This all means that despite the fact that travertine is durable and resilient, it should be maintained properly and regularly and the truth is maintaining travertine is not considered a costly action. However, in comparison with synthetic products and some other natural products consisting of granite, travertine requires more care and maintenance to preserve its beauty and elegance. When its surface is not sealed properly, it is always the danger of etching and scratching, and the absorption of spills in its holes. That is why our experts at hunterpaver highly recommend our customers to take the advantage of regular sealing. Such maintenance procedure prolongs the life of travertine and helps to have the sharp look for a longer period of life.
How to maintain travertine tiles
During the last few years, travertine has turned into a very popular and classy item as it offers durability, beauty, elegance, and a sophisticated look, and more importantly, its maintenance procedure is not sophisticated. Meanwhile, unlike other materials travertine stones have tone-on-tone coloration and patterns, and color swirls throughout the stones create unique patterns, and timeless beauty, consequently designers take such quality and take the advantage of them in fireplace surrounds, walkways, and also swimming pools. However, in order to have a more convenient experience regarding the endless beauty property owners should be notified about maintaining travertine as an important task. However, boldly colored blotches and freckles rarely appear on the surface of them, and the slightly pitted surface with small holes from the bubbling of carbon dioxide gives the travertine a rustic appearance which tends to gather dust on its surface. By the way, a mixture of epoxy can fill the holes, prevent such happening, and make maintaining travertine much easier, as it makes travertine's surfaces smoother and easier to clean. Moreover, despite the fact that in comparison with marble, and granite they offer less durability, travertine stone can stand up well to foot traffic which means people can take the advantage of them as their flooring items. Meanwhile, people will not worry much about maintaining travertine in extreme weather conditions, as temperature swings are not going to make any type of cracks on them. However, if the travertine is struck with something heavy, it might crack. Another important factor regarding maintaining travertine is its susceptibility to scratches which is more dominant in polished stone.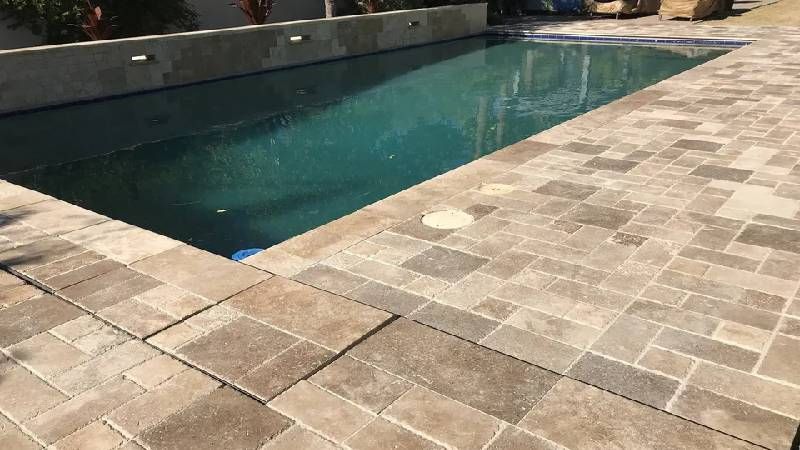 The criteria regarding the maintenance of travertine
The porous nature of travertine tiles results in liquid, grease, and oil absorption, and it may leave stains to mar the stone's surface. People should also consider the usage of acidic materials on the surface of travertine because those materials including wine, vinegar, or even coffee can cause etching on travertine. Although polished travertine shows some sort of resistance to stains and etching, maintaining travertine from acidic substances is very important in all types of travertine finishes, as at least they can leave a mark on the fabulous surface of stones. However, by the regular sealing process, such happening could be controlled to a high extent. This way buyers in different parts of the world can enjoy the warmth and natural finish in their surroundings, and it is worth mentioning that it is much easier to care for travertine than other natural stones, and natural happening like weathering can actually improve the way travertine looks. Therefore, they are considered as trendy iconic items with a variety of colors and finishes that complement almost any style. It is often said that maintaining travertine involves just some basic considerations, but these basic steps will result in a more rustic surface that will last for decades. For instance, by just sweeping travertine tiles regularly the potential grit on its surface could be removed, and by cleaning up with a cloth mop your area would look sharp and gravitate anyone towards them. Moreover, property owners should care about not cutting directly on the surface of travertine as it might damage it profoundly, and for maintaining travertine it is recommended to clean them by the use of slightly damp microfiber cloth when a stronger cleaning power is required. In case travertine tiles are installed in shower surroundings, it is better to clean them with non-acidic soap-scum remover, and do such acts on a regular basis, and in fireplaces, its surface should be dusted regularly to keep charcoal from setting into the stone.
How to use different types of travertine
There are four main types of travertine, and each of them is different in look and individuals should take different attitudes toward using them and how maintaining travertine of each group. Polished travertine is almost the most modern item of them, and the natural holes which are appeared on its surface along with the smooth and shiny surface offer a very glossy surface. Interestingly, its surface is the best for resisting stains, and therefore, in this case, maintaining travertine is not a tough job. Honed travertine is very popular for residential areas as its smooth and almost-matte finish goes well with different styles and decorations. Honed travertine is also dominantly used as flooring, counterparts, and backsplashes and it also works well as an outdoor item as its matte finish means you should not worry about maintaining travertine. Moreover, tumbled travertine is an item that helps you get the most weathered and rustic finish that helps travertine to look intact for a longer period of time. This item offers rounded corners, and edges and its antique looks provide good traction underfoot. Its matte and heavily textured surface makes it a very useful item when it comes to outdoor applications and such surfaces do not require sophisticated considerations regarding maintaining travertine. The least common type of travertine is brushed finish and it is a reminiscence of old-world decoration styles.
The final words
In comparison with its maintenance procedure, the installation process of natural stones like travertine is not an easy task, as they are too hard to be installed conveniently, or be transported easily. Moreover, they are not as cheap as many synthetic materials, and that is why people should care to maintain them appropriately. According to the pre-mentioned criteria, sealing travertine is considered one of the most important items regarding maintaining travertine. The importance of that is up to the point that it is recommended to seal travertine surfaces using a sponge, brush, or sprayer once in one or two years depending on traffic and usage. Prior to sealing, the surface of travertine should be cleaned appropriately and properly, and then apply the sealing that is aimed to protect the stone against unwanted materials and happenings. Another quality of solid-stone materials like travertine is the way in which they retain temperature, which means during winter mornings the surface would be uncomfortably cold, and during summer it would be hot under feet even in the evening. However, because of such quality, travertine tiles are considered trendy items in order to help heat up a room as it is an excellent conductor. However, as compared to these options, travertine will definitely add to the value of your homes and would stay intact for a lifetime which means them undoubtedly worth it to go for.