Is Travertine good for outdoor use?
Such characteristics become even more iconic in areas where you have heavier vehicles. Travertine pavers are available in different finishes, and each paver can create a rustic or even modern world look for your driveway.
One important factor for outdoor landscape materials is their functionality as well as their sense of elegance. That is why travertine is commonly used for outdoor applications including pavers or driveways. In comparison with conventional materials like brick or concrete, travertine ties are more durable, and they are more resistant to daily tear and wear.
Such characteristics become even more iconic in areas where you have heavier vehicles. Travertine pavers are available in different finishes, and each paver can create a rustic or even modern world look for your driveway. A brushed finish is characterized by rough edges while tumbled edge pavers have had loose imperfections removed, and the final product is of great quality. The good news about travertine products is that they are timeless, and can outlive trends for outdoor landscape design. In fact, regardless of their age, whenever you install travertine in your surroundings, the final value of the area is increased. A good example of this idea is the ancient structures that are decorated with travertine products.
What types of materials are suitable for outdoor applications?
Travertine is a sedimentary rock that has been formed inside of hot springs, and the escaping water vapor from the cooling stone turns the final product into a porous stone, therefore it gives it a naturally rustic look. Many people from different parts of the world use travertine as a perfect choice for outdoor use as it complements many areas of their home's exterior. Travertine is considered a practical item as it comes in a variety of thicknesses. So travertine can be used to create patterns that delineate both excellence and create visual interests.
However, in case people use thin travertine tiles some important considerations including taking care of the tile or using a proper mortar bed should be noticed first, and these thin items are not wise choices for outdoor applications. Among all the places where people tend to use travertine, pool decks are of popularity, as travertine tiles retain cool to the touch by reflecting heat, and do not become chalky after installation. Travertine is a perfect choice to surround pool decks as its texture ensures a slip-resistant surface. This way the exterior look of the houses will turn into a more iconic and cohesive one.
Moreover, travertine could be used to reface retaining walls, as they have natural variations in color, and therefore travertine's surface will remain within one color palette. Outdoor stair treads which are made of travertine could also complete the look of patios, pool decks, and all the elements which are part of exterior design. Intriguingly, as well as being durable, travertine is freeze-resistant, so it is an ideal tile to be used for exterior design.
No matter, the decorative, engraved, or stained tiles are used for the exterior design the final look would be spectacular. But the selected shade of travertine should match other elements of the space.
The popularity of travertine for outdoor uses
One of the most popular paver materials which are available in the market is travertine pavers. Moreover, in case individuals are looking for an item for their pool deck, then travertine would also be their most popular choice again.
So familiarizing outdoor designs with travertine seems to be a common way to turn every dull area into a focal point. Travertine pavers stand out not only for being spectacular, but also not slick when wet, and not hot in scorching summers around swimming pools as travertine is a kind of sedimentary stone so it has natural voids and openings in its surface which absorb the heat of the sun.
Travertine products do not get slick when wet which can easily prevent slip and fall accidents from happening, and it is very comfortable to walk over them. All these desirable qualities have resulted from their formation process, therefore customers in most cases find travertine a very good investment in their outdoor areas. Another reason why many people fall in love with these iconic products is the availability of different color pallets and the fact that they can blend in well with almost all landscaping materials. More importantly, travertine products can withstand extreme weather conditions and can resist damage from rain, snow, and ice. However, individuals should care properly regarding the use of travertine pavers as outdoor conditions may creep travertine tiles and affect their surface negatively in ways you might not expect.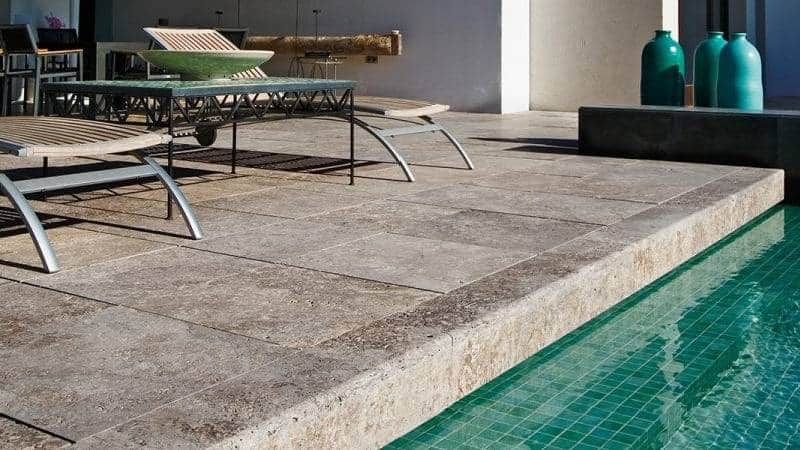 A more convenient experience with travertine
In order to have a better experience regarding the use of travertine tiles, people should protect outdoor travertine pavers from whatever may mark travertine surfaces. Whenever travertine is used as pavers, people should care much not to put heavy outdoor furniture on their surface. Meanwhile, products made of heavy plastics, woods, or metals may chip travertine pavers in case they are dropped on their surface.
As well as the abovementioned considerations, grass and weeds growth should be checked regularly, as many believe there is nothing worse than seeing them start to peek through cracks between travertine pavers. Therefore, by simply using a weed-whacker or stone edger, in case you have used travertine in an exterior design you can maintain your rustic design to be shinning for a larger period of time. Our experts at hunterpavers.com highly recommend customers sweep surfaces regularly in order to minimize the scratches and wear patterns on the surface of natural stone.
Moreover, the surfaces should be cleaned by the use of warm water and a sponge, and the agents which are made for natural stones should be used. External sealants are also believed to be effective items in order to protect travertine from weathering over the decades. In cold weather conditions, the travertine in exterior design could also be shielded from the different types of damages by the use of sealants.
Why choose travertine for outdoor uses
Taking the advantage of travertine as a paving material will provide us with a plethora of advantages and that is why they are highly important when we are talking about exterior design. During rough weather conditions, rain can wash off the sand and can hurt surfaces to become extremely damaged, and also the foundation is weakened which poses a major safety risk.
Moreover, the repairing process will also cost a fortune. So using travertine is actually a preventer to the abovementioned dangers, and can protect the surface. But people should be concerned about their implementation of them in their exterior design. For instance, you'll need to make sure it is well coordinated with the existing design and the finish which is implemented goes well with the application of the building.
Another important factor for most home projects is definitely the budget, and you should also notice that for a large area, or one that is likely to be well-trafficked and needs updating more often, it is of great importance to take the advantage of mid-range materials including travertine. In different parts of the world including Australia, travertine pavers are symbols of luxury and uniqueness, as they have a reputation for their iconic appearance. So, in case you have used travertine in your exterior design, they would give premium look to your area.
Travertine and other products
As well as granite products that can withstand heavy loads in exterior design, travertine tiles are also practical items. Many people opt for travertine for their outdoor applications as they are not as expensive as marble, or granite but they are durable enough to bear outdoor weather conditions.
Travertine is one of the most widely used stones in modern architecture, and from building facades, wall panels, and floors they could be found dominantly. As one of the oldest building materials known to humankind, using travertine in exterior design gives a home a sense of vintage and prestige, and its strong energy, as well as its moderate tones, gravitate anyone towards them. By the use of this iconic material which originates from nature, and its color pallets, people can turn their dull area into a more lively and energetic one.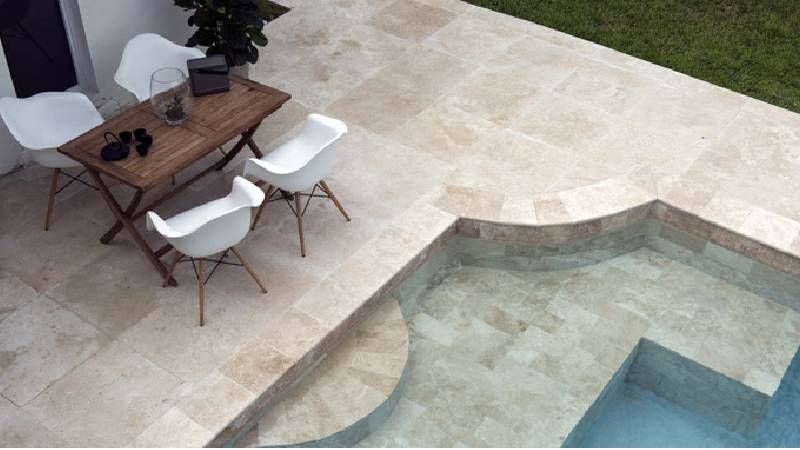 The advantages of travertine for outdoor use
When weighing the options for outdoor design, individuals should typically go back and forth between natural stones like travertine and synthetic products including concrete pavers. As travertine pavers can be cut into squares or triangles they could be used in different outdoor areas, moreover, the unique appearance of travertine makes it a much aesthetically appealing choice for outdoor use.
As a high-end natural stone Travertine is ideal if you have a large budget and desire the antique beauty in your outdoor area, and its formation process turns it into a durable counterpart. Moreover, different color pallets including greys, beige, and various colors of white give a natural and fabulous look to the outdoor area. The extreme durability of travertine as well as its elegance and flair, prove that travertine is a long-term investment.
So, based on its natural colors and texture, travertine is the most prominent stone for outdoor application. Travertine products are perfect choices for either modern or antique outdoor design. Therefore, travertine offers different surface treatment possibilities and many ways and patterns of laying which are so useful for outdoor design.
Travertine is a good choice for outdoor use
Overall, travertine is totally a useful and popular item for outdoor use. This stems from the fact that despite the fact that it is an affordable product, its durability and look are comparable with more expensive materials like marble and granite.
The fact that travertine tiles are highly resistant to water and moisture, and also their durability means your exterior area is not going to be damaged easily. Moreover, it was conducted that travertine is very resilient to extreme weather fluctuations, and therefore it is a perfect choice for outdoor use. Due to their porous surface, travertine tiles are easy to walk on, and they have a naturally non-slippery texture which makes them ideal for outdoor application and pool decks.
However, there are a couple of considerations that should be noticed in order to have a better experience with travertine. The first one is that travertine is sensitive to acidic products like different types of juices, and coffee, and therefore there is always a risk of a permanent stain. Moreover, like natural stones, they are heavy, and travertine is installed by only experts.