Why to use Travertine for Pool deck?

The pool deck also known as pool patio is mostly the privet area in your backyard which surrounds your pool. In this area you may want to place lounge chairs, tables and some other backyard furniture's.
Travertine is a famous versatile natural stone which is categorized as a sedimentary limestone. The formation process of this limestone, mostly occur nears natural springs out of mineral deposits. The appearances and characteristics that any limestone has, comes from various mineral deposits available in this process which leads to distinctive swirls throughout the limestone. If you look throughout the history, you will find many different places that are made out of travertine. For instance, due to the travertine's slab and tiles appearance, layered and mottled texture, the ancient Romans used it as a building material for building places like the Rome's Colosseum. Nowadays, travertine has accomplished many proposes in different projects and scales. Landscaping, design and planning outdoor areas has become one of the famous uses of travertine. Outdoor applications can means paving, wall cladding, furniture, pool decks, and etc. Here in this article we will discuss about travertine pool decks.
Travertine Benefits to use as Pool Deck
The pool deck also known as pool patio is mostly the privet area in your backyard which surrounds your pool. In this area you may want to place lounge chairs, tables and some other backyard furniture's. The pool deck can create and present the style of your entire swimming area. You need to find the perfect material for your pool deck, because your swimming pool deck especially in the summer can be the perfect place for parties, gathering and family fun time! One of the essential and also hard parts of having a perfect pool deck is choosing and buying a suitable material. One of the famous and stylish choices on the market is travertine slab and tile. The travertine pool decks are increasingly popular due to many features that they have.
Characteristics and features of travertine
When it comes to choosing a material for paving of your pool deck, there are some specific features that a suitable material should have and deliver. In below we name different features and characteristic of travertine stone which makes it a perfect and suitable, material for your pool deck. In the end of this article you can choose to have travertine pool decks for your house with ease and assurance that it can deliver all the expectation that you have.
Travertine pool deck appearance and styles
Travertine tiles can offer multitude colors, hues and styles which will make travertine pool decks to have amazing and fantastic look alongside your pool. Also a suitable material for your pool deck should be able to offer aesthetic perks to. Travertine pool decks can de designed in various color pallets. The travertine tiles that are used for designing travertine pool decks can be in many different shapes and sizes. So one of the feature that travertine pool decks can have is, they can be made in different shape to the owners taste. These are the color that you can decide on and ask your designers or suppliers to provide them for you: Walnut, Noce, Chocolate, Silver, Philadelphia, Gold, Light Navona, Emerald, Emerald Light, Onyx Light, Mina Rustic, Mina Dark, Scabos, Durango, Red, Rosa, Gray, Classico, Beige, and etc. To shed more light on this matter you should know that for example, the pieces that have a spectrum of light brown and off-white color, can deliver an antique and warm feel around the swimming pool area. When such colors are combined with the dark blue lining alongside the pool, they can catch anyone's eye with spreading a calmness and pleasing feel in the area. Note that when you are choosing travertine pool decks you can also ask for designs with the same pool coping. By choosing the same material, you can match the edge of the pool with the rest of your patio area, the result will be astonishing.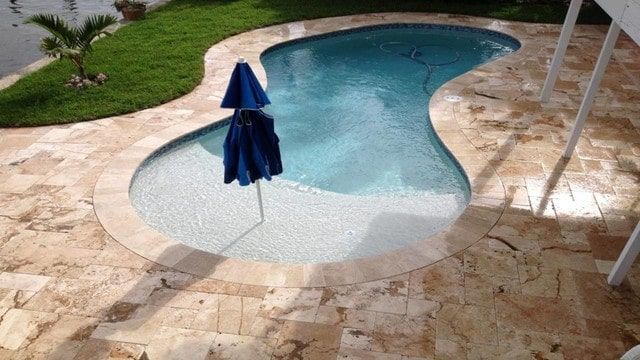 Travertine pool decks can act as an insulator
if you are concerned of using materials like bricks or cement of your pool deck, as they can easily get hot under the sun light. A perfect solution can be deciding on switching materials to travertine pool deck tiles which can eliminate this problem. Travertine pool deck tiles can reflect the heat from sun. in the meantime, they can absorb the coolness of the ground underneath them. In this way, even under direct sunlight of hottest days in the summer, the travertine pool decks are safe and pleasing to walk barefoot on.
Travertine pool deck tiles are slip-proof
One of the most dangerous things that can happen near the pool is slipping. Due to the porous quality and texture of the travertine pool deck tile's surface, they are slip-resistance. these pieces can absorb water which results in preventing forming any hazardous puddles near the pool deck. By choosing travertine pool deck tile you can decrease the chances of any one getting hurt and you can rest easy by knowing that the area near the travertine pool deck is safe to walk on.
Advantages and disadvantages of having travertine pool decks
Like any other natural material, there are multiple benefits as well as some disadvantages for using travertine pool deck tiles. In below we have named some of them:
Travertine pool deck tiles are resistant to extreme temperatures. So they can feel cool under your feet, even on the hottest days of summer with under direct sunlight.

As we mentioned earlier, travertine pool deck tiles are durable and have a porous non-slip surface.

Travertine pool deck tiles are water-resistant, so they can avoid any complications like slipping and falling.

Travertine pool deck tiles have a porous texture which means if they get dirty, that they can appear stained. Also if these tiles are installed near loose soil, the dirt can become trapped in the natural pores of them.

You should note that if you are living in a region where the temperature is regularly fall below freezing point, the travertine pool deck tiles cannot be a suitable choice for you. Due to their porous texture, water can freeze in the empty holes and cause cracks and damages to your tiles. Some owners have a solution for this matter, they fill the holes with an epoxy resin and then sand them down, this can be a temporary solution but it can work and prevent the serious damages to your tiles.
Due to all the pros and cons we named, many people believe that the travertine pool deck tiles are ideal for open areas and outdoor designs, landscaping, including swimming pools and hot tubs.  
Maintaining travertine pool deck tiles
Among many natural stones, travertine is easy to maintain and care for. you can simply use water to clean travertine. The through and careful cleaning of travertine tiles in open areas and outdoors, should be done at least one a year. The easiest way for annual cleaning of your travertine pools deck tiles is to use a pressurized water hose to completely remove caked on dirt's. The travertine pool deck pavers do not need to sealing to work properly and effectively. One important reason that you should not seal your pavers surface is that, by applying a sealant you will reduce the slip-resistance of the tile which makes them slippery and dangerous to walk on.
Hunters Pavers have been a paver, blocks and retaining wall supplier in Australia for a long time, you can even check our reputation online based on the reviews. Here, we always try to provide you all the information and content that you need to know about many topics regarding to types of natural stone, as in this article "travertine pool decks". If you are still wondering and not sure about "why you should choose travertine pool deck tiles?"; contact us, we have an amazing group of experts that can help you. They can give consultation on finding the suitable material to your desire and taste for your projects.