you should use granite in your house
Granite Stone For Home
Granite stone make a statement in any home. This natural stone can be used in contemporary and traditional designs.
Granite Stone For Home
The beauty of the spaces is the most important consideration that homeowners have during the design of their homes. Speaking of beauty, there's nothing like granite, and you'll find that many opt for the beauty that it offers for places from kitchens to bathrooms.
If you're getting ready to plan the design of your home, then you'll find
granite
as the first choice for different part of it. This is especially true for the kitchen counterparts, floorings and also interior walls and facades.
You can get what you want with the vast amount of color options and designs that granites offer. If you're wondering why granite is considered as a supreme choice for your home, then read the article below to find out more.
It is not a hard work to care for granite when it's professionally sealed and this way, it will help to avoid stains, scratches and even bacteria growth. Plus, pores are found in the surface of granite in its natural look with the array of colors which would match your choice.
Granite stones have been around for more than thousands of years and that is why it makes sense that they would last a lifetime, if not more. Moreover as many home buyers are looking for homes with enchanting designs and last landing materials, by taking the benefit of
granite stone
in different areas of your homes, you help make your listing more attractive to prospects and in the end you receive a return on investment when you install granite into your home.
Granite for kitchen
Kitchen counterparts most of the time are built by granite stones in fabulous designs as they can create a kitchen atmosphere more elegant. If you are aiming to form a classy and rich look to your kitchen, granite stone is the right product for you. Granite counterparts can add style and value to the kitchen.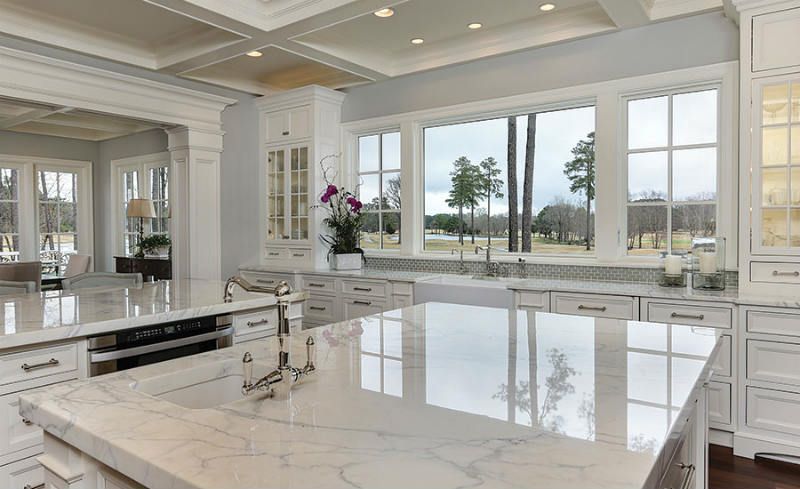 By the use of granites in range of colors that have set the trend for each kitchen style your areas, you can adapt space to any style existing in any part of the world. Plus, as it comes to kitchen counterparts they must be tough enough as many homeowners use them for prepping and cooking foods or an area where to sit on.
Granite backsplashes are also common, as they were made by granite counterparts they match perfectly with each other. Meanwhile
granite
is heat resistant and stain resistant, so spilled liquids and spitting frying pan oil will wipe off easily from its surface.
Therefore, based on the above mentioned qualifications, there would be no option except granite for your counterparts as it comes with a solution to all the challenges that are dominant in kitchens.
Granite for bathrooms
Granites can be installed on both bathroom walls and bathroom floorings. As a bathroom tile, they can be supplied in a large custom format and with numerous colors to choose from it allows you to adapt its design to all your needs in terms of continuity.
Granite for bathroom
|Their high durability and resistance also reduces wear when used on bathroom floors. This flooring is also considered as a non-porous one and scant maintenance requirements make it the ideal product for rooms in which are exposed to water.
More over a bath vanity made of granite is actually an ideal material for the bathroom as it could be used where both mold and water are available or bacteria are dominant. Moreover, based on its innately spectacular characteristics it can bring a sense of elegance and class to your space.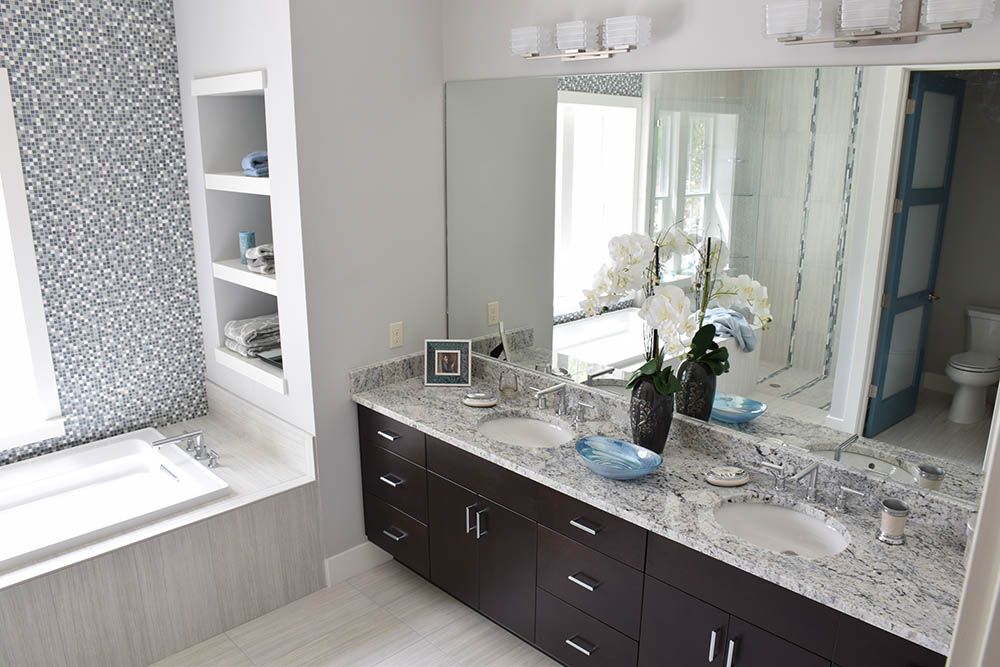 Granite for facade
Granite is a type of hard volcanic rock that is made up of different minerals which has made it to one of the toughest and most durable stones available on the earth which makes it an ideal material for facades. The ultimate façade of the building is dependent on the process on which granite is extracted, processed and finished. Granite is highly Resistant to heat and cold, beside it offers the exterior walls an aspect of strength and hardness. Whenever large formats of them be used in facades the ultimate continuous and timeless style will be created that will last a lifetime. The facades which are decorated by
granites
are imposing serene bearing and excellent technical features and they also work efficiently under different weather conditions. They play a big role in the ultimate architecture of houses and that is why they are considered as one of the most commonly used items among designers.
Granite for flooring
Granites are considered as one of the most durable stones on the market. Therefore, homeowners who feel like they are going to have significant foot traffic in certain spaces will do well to install
granite flooring
. Meanwhile other important parameters like moisture levels, movement frequency and even slip resistance must be noticed before you get
granite installed on your floors
, and from flamed to honed
granites
they can function exceptionally well in almost any room of your home
Granite tiles
are perfect for adding a sense of elegance and shine to your flooring.
It plays a big role on enchantment of the natural look of your home and helps connect indoor and outdoor spaces. A bedroom or a living room will completely change their appearance thanks to polished granite flooring that has been installed there.
Different factors must be noticed before choosing the right type of granite flooring that includes the location or space where you wish to place it. As long as you use the right granite sealer and cleaner, your granite tiles can last for decades.