Tiles for flooring
Which tiles are better for flooring
Tiles for flooring are available in a variety of colours, textures, and designs. Read this article to get more information and choose the right one.
Choosing the right tiles for flooring
In today's homes, tile flooring is becoming increasingly fashionable. They provide a stylish and beautiful finish to your home, in addition to their strength and longevity. Tiles for flooring are available in a variety of colours, textures, and designs, and they need less maintenance. They are one of the most flexible flooring materials accessible due to their wide range of colours and designs. This flexibility allows homeowners to select from a wide range of tile materials.
From little mosaic tiles to larger tiles, you have a wide range of options. There are also durable ceramic "wood appearance" tiles that look like hardwoods.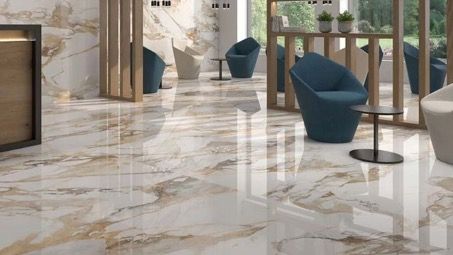 Are all tiles good for flooring
All tiles, however, are not created equal. Their appropriateness for various types of living spaces differs as well. Bathroom tiles have always been a popular choice. In areas such as dining rooms, kitchens, entryways, hallways, mudrooms, and laundry rooms, homeowners choose tiles for flooring. The most durable tile flooring alternatives are porcelain and glazed ceramic tiles. They are also simple to keep clean. Tile grout should be sealed on a regular basis to maintain its appearance and avoid stains, especially if you rent your home.
Cost of installing tiles for flooring
Tile prices vary greatly based on the kind of material, size, and design. Tiles are a very inexpensive flooring option, but when you include them in the cost of installation, the price might skyrocket. Putting your tile flooring ideas into action is time-consuming and necessitates the installation of a suitable subfloor and cement board beforehand.
You may also use a tile backer as a basis. Some little tiling tasks are simple to do yourself. If your project is larger and more difficult, however, you should hire a professional tile installer. Tiles are not commonly used in living rooms, formal dining rooms, or bedrooms since they are chilly and rough.
Tiles, on the other hand, are appropriate for these areas in markets with a warmer temperature. Tiles for flooring are increasingly being used in these spaces, particularly when the flooring has been insulated or heated.
Also, keep in mind that wet tiles are slippery. When choosing tiles for damp locations, keep this in mind. To avoid accidents, the tile design must give appropriate foot traction. As a result, non-slip tiles should always be used in mudrooms, entryways, and restrooms.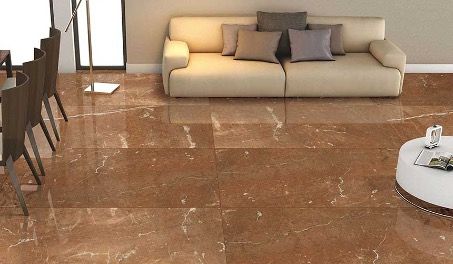 Some great options for tiles flooring
This can get difficult because of the various types of tiling materials, sizes, and designs available. There is, however, no reason to be concerned. We're here to assist you in narrowing down your choices to the finest available. Hopefully, these will make it easier for you to locate a good fit for your unique requirements. Ceramic tiles, marble tiles, porcelain tiles, and travertine tiles are all you may consider for your flooring, but travertine stones are more appropriate.
Ceramic tiles
Quarried clay is used to make ceramic tiles. After that, they're prepped and moulded. They come in two varieties: glazed or polished and non-polished or unglazed. Ceramic tiles are a less expensive choice for tiling a house. They are sixty percent less expensive than porcelain tiles. If homeowners prefer to handle the installation themselves, they may easily cut the tiles.
Porcelain tiles
When compared to ceramic tiles, porcelain tiles are heavier and less permeable. When compared to ceramic tiles, they are commonly extruded and have less imperfections. They are similarly robust and have a greater water resistance than ceramic tiles due to their high density. Porcelain tiles are also more durable than ceramic tiles, making them ideal for high-traffic areas.
They can imitate marble, stone, or hardwood tile looks. They can withstand strong foot traffic, stains, and scratches. If large things fall on them, though, they may shatter or chip (So porcelain is not a very good option for tiles for flooring). They're also rough on the feet, although this may be mitigated by using a cushioned mat, especially if you're going to use one for your kitchen floor.
Travertine tiles
Here is the answer to tiles for flooring. Natural stone tiles are ideal for creating a luxury impression with your tile floor. They are quite durable, in addition to being elegant. Any area in your house may benefit from travertine tiles. The stone tiles' one-of-a-kind appearance offers your floor a look that can't be found anywhere else.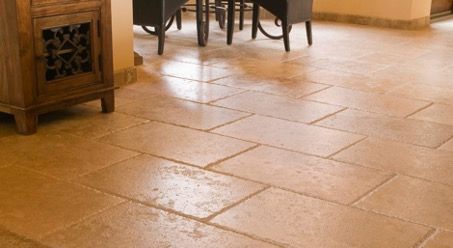 Choose larger travertine tiles for flooring with 12x12 dimensions and higher for a luxury look. It's worth noting that, unlike other types of tiles, travertine tiles need to be sealed. The sealing extends the life of the tiles and makes it stain-resistant.
A stone tile that hasn't been sealed is porous and water-permeable by nature. It may cause the tiles to collapse in severe situations. To maintain it in good operating order, remember to seal it after installation and reseal it every five to ten years.
Benefits of travertine tiles for flooring
Because of its numerous benefits, the travertine stone finish is still popular today and is unlikely to become obsolete very soon. Continue reading to see why travertine is still popular.
Travertine is most often seen in tile form for floor applications. Travertine is one of the most often utilised stones in modern buildings.

Natural stones such as travertine and granite are excellent choices for exterior applications where heavy impact is a result of natural or human-made causes.

They are sturdy and, as a result, last a long time, in addition to having a lovely finish.

Travertine is formed when a stone is subjected to extreme pressure. As a result, there is no need for any artificial manufacturing procedures. Travertine is simple to remove and cut, using less energy and releasing less pollutants.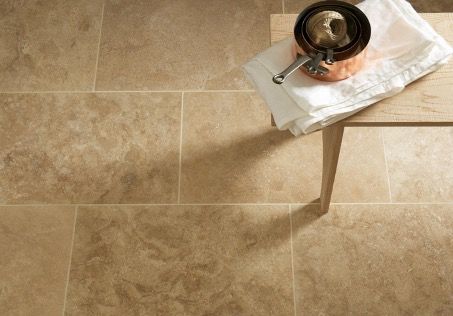 Last word
Travertine stone finishes aren't going away anytime soon. By integrating this material into their designs, modern homes have set a huge trend. For a variety of reasons, travertine has proven to be a durable countertop. The colour palette includes greys, beige, and various hues of white, all of which lend elegance to any environment. Travertine is extremely durable, in addition to its elegance and flair. These characteristics prove that travertine is a long-term investment and a great option for tiles for flooring.