Where can we use Crushed Limestone and Why?
Crushed limestone is a famous aggregate which is composed out of calcium carbonate -known as calcite-. After the limestone blocks are mined out of quarries, the stones are crushed in various specific sizes so they can be used in different applications.


Crushed limestone is a famous aggregate which is composed out of calcium carbonate -known as calcite-. After the limestone blocks are mined out of quarries, the stones are crushed in various specific sizes so they can be used in different applications. Some of the common uses od crushed limestone are in building materials, drainage, making concrete, backfills, and bedding the road bases.
Various Uses of Crushed Limestone
Often when people hear of limestone and natural limestone paving uses in constructional, architectural or landscaping projects; they only think of making countertops, columns, back splashes, fireplace surrounds, wall cladding, floors, and other decorative elements inside the home. But limestone has another form that can have many uses in all kinds of projects which is crushed limestone. The crushed limestone's are not as popular as they should be but they are versatile and affordable natural material that can enhance your projects, both in appearance and maintenance. In below we will more discuss about various applications that crushed limestone's can have for your projects:
Drainage Ditches
One of the main concerns of anyone who lives in locations with high rainy seasons and heavy runoffs, is how to keep rainwater from pooling around the home's exterior. In this areas having and building a drainage ditch is essential and necessary to keep the exterior of the house safe. One of the common ways facing this matter is to line a ditch with gravel or crushed natural stones to prevent any soil erosion. One of the recommended natural stones, is crushed limestone which can be an excellent and efficient choice. Due to the degree of runoff, you can use different sizes of limestone. Generally, the larger crushed limestone's act as stabilizers and the smaller ones are used as fillers.
Landscaping and Footpaths
When you ask a landscape architect to design your back yard, they will manage and separate various applications and zones for you with different footpaths. Many materials can be recommended for these footpaths. One of the common materials that has vast color palette and can easily deliver all of your expectations is crushed limestone's. as a result, the crushed limestone footpaths can add character to your backyard or garden. You should note that the crushed limestone's can be a budget friendly material in comparison to other natural stone pavers. Also they are simple to construct, you just need to remove the sod, roll out the landscape fabric, and spread the stone on its surface.
Driveways
Another common use of crushed limestone is paving driveways. If you are on the hunt for an affordable and scenic alternative material to asphalt or gravel driveways, you can simply consider crushed limestone's. The crushed limestone is way more budget friendly than asphalt specially when we talk about long driveways. Also the crushed limestone's can offer almost any benefits that gravel has in addition to providing more aesthetically-attractive natural appealing coloration options. In comparison to asphalt, the crushed limestone's can pass the test of time, unlike asphalt which will certainly develop cracks over time. This is due to the fact that the crushed limestone's are less affected by the weather and can also allow water to pass through. Another advantage of using crushed limestone's is that they require less maintenance than other driveway material options. With knowing all that we said above, it is safe to say that the crushed limestone is an excellent driveway material; especially for people who want to enhance their property's value without spending a lot of money or needing tiresome installation work. Crushed limestone's can be available in many colors; but the most recommended color for using them as driveway pavers is the grayish-white color with dark specks. Because it can improve any landscapes appearance while it can easily support a vehicle's weight.
Ground Cover
The crushed limestone's can make an excellent ground cover. They can enhance the overall appearance of any landscape, especially if there are turf grasses or other organic materials that are really hard to maintain and keep up with them. By laying down a landscape fabric before installing the crushed limestone's, you will add an extra layer of protection from the weeds.
Soil Enrichment
Another common and famous use of crushed limestone is for gardening and agricultural applications. The added crushed limestone can be a nutrient rich and can boost the growth of plants, lawn flowers, and vegetables. So whether if you are into gardening and growing crops in your garden or you just want to improve the overall appearance of your lawn; you should consider using crushed limestone as an option.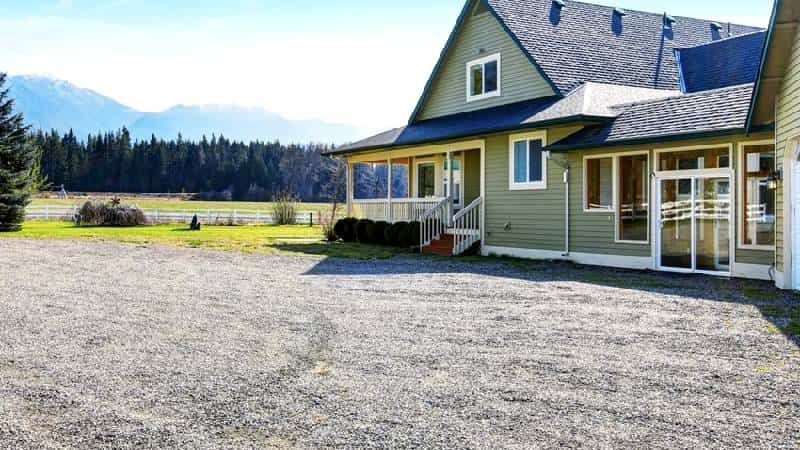 Crushed Limestone properties:
Excellent Drainage:
When a layer of crushed limestone's is laid for applications like driveways; as they have empty spaces between individual rocks, these empty spaces can efficiently help the water drainage. In takes some time but eventually the water seeps into the ground with a natural process.
Easy Installation:
One of the challenges that anyone can face when they want to use a material in their projects is their installation. An advantage that crushed limestone's have is their simple task for installation. For instance, when you want to construct a crushed limestone driveway, you just simply need to dump the rocks into a pre-defined space, distribute them evenly, and lastly you should compress them to make a denser and sturdy surface. The process of having crushed limestone driveway in comparison to asphalt or concrete driveways is very simple and easy.
Durable:
As we have mentioned in all the articles about limestone, this natural stone and sedimentary rock is a dense, hard and durable which is made out of mixture of carbonates with other minerals. Due to the characteristics of limestone, any product that is made out of it should have different levels of its properties. In conclusion the crushed limestone is a highly durable material.
Appearances:
like any other natural material, there are no two crushed limestone's that are exactly alike; which means that you have numerous possibilities to create beautiful patterns with them. The range of crushed limestone color is really vast. For example, you can use a honey-colored or light cream hue crushed limestone to complement the natural green color of the landscape around it. Also the crushed limestone's are available in varieties of darker hues that can have more dramatic effect.
Accessibility:
Another advantage for using crushed limestone's in your projects is that they can easily be available on the market and in many construction supplies stores around you. You can also buy crushed limestone from any sand and gravel company.
Affordable:
As we mentioned earlier, the crushed limestone in known to be an affordable natural material, especially in comparison to materials such as asphalt or concrete.
Seasonal Challenges:
A disadvantage to having crushed limestone paving in cold areas that have heavy snows, is that plowing snow from a crushed limestone is a difficult task. Because of its texture, the snowplow can dig into the limestone bed and alter its composition. Also due to the gaps in the crushed limestone, raking and removing the leaves on its surface in the autumn can be challenging to.
Frequent Maintenance:
Note that in some locations, a crushed limestone driveway requires frequent and weekly maintenance. You should remove leaves, twigs, and other debris. So if you are not up for it or simply do not have the time to care for your crushed limestone driveway properly, having a crushed limestone driveway is not the best option for you.
Hunters Pavers have been a paver, blocks and retaining wall supplier in Australia for a long time. Here we always try to provide the information and content that you need to know about various types of natural stone. If you have any question regarding to our limestone products, contact us. our professional experts will help you in any way they can.