choosing the right paving for your patio
Paving For Patios
Paving provide us with plenty of merits and that is why they are highly important during exterior design.Natural stones are available in different colors and finishes which can be used for patios too and would provide both classic and modern look to it.
Why paving for patios?
Paving provide us with plenty of merits and that is why they are highly important during exterior design. During rough weather conditions, rain can wash off the sand and can hurt surfaces to become extremely damaged and also the foundation is weakened which poses a major safety risk and also the repairing process costs a fortune. Therefore, paving acts as a preventer to abovementioned dangers and protects the surface.
Consideration for paving
Steps must be taken before the installation of any material to your layout, for example you'll need to make sure it is well coordinated with your existing design and color schemes and it goes well with the application of the building. The other matter which is important for most home projects, might be budget, and you should also notice that for a large area, or one that is likely to be well-trafficked and need updating more often, it's worth considering the costs in the long term. As it comes to patios you can also be a nosey neighbor and take inspiration from the houses around you.
In different parts of the world different paving are the reminiscence of different styles as in the UK, block paving has a reputation for its classic, luxurious appearance, or in
Australia natural stone paving
is considered as a fantastic luxury item. If you're using them in your patios, different materials for your paving would give premium look to your paving.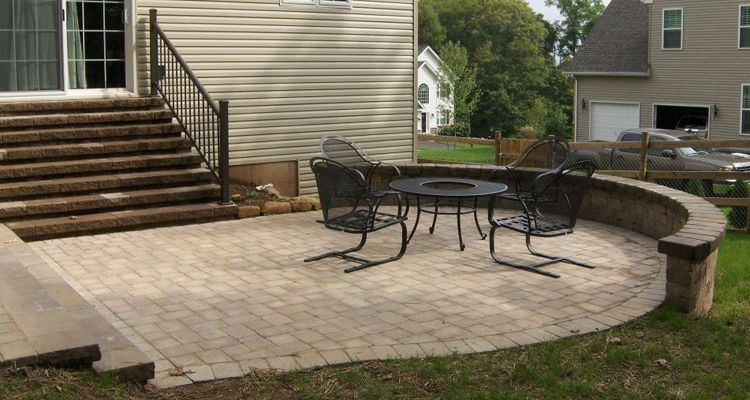 Different types of paving
Many years ago the only choice for patio paving came down to concrete paving slabs in grey or red color. Today there are plenty of choices available on the market consisting natural stone paving, porcelain paving, block paving ,
granite stone
and concrete paving slabs which are commonly used among customers. Choosing the paving material is a matter of taste but generally there are some considerations which must be taken to account before exterior design, different places will have many different design requirements to a classic one or a large monochrome slabs with a smooth, sawn surface will provide a sleek and spacious feel wherever they are used.
When it comes to the usages of paving there are different types of stones which provide different advantages like giving non-slip surface whenever they come around pools or water features meanwhile a lighter stone may not be suitable for walkways and if you expect a dirty environment a low-maintenance or darker option could be smarter choices for you.
Natural stone paving is a very popular option for patios
as they come with everybody's style preference because of their versatile colors and textures. They are popular building material for constructing outdoor patios, like they are affordable, easy repair, durable, strength and also aesthetic items. Due to the availability of various shapes, colors, and sizes of natural stones, they have become one of the most versatile paving materials available today.
This paving will never crack or chip. Plus, they are highly resistance to temperatures springs while climates, never expanding or contracting which makes them hugely popular among those who live in a four-season area. Moreover, whenever anything happens to their surface by just replacing a single stone which is extremely a simple job the whole surface would be recovered. They are also believed to be maintained easily and they are built to last which means they will not absorb grime and are easy to clean.
As an endless option, they are easy to be maintained. There are not any other option on the market which could offer a combination natural color in any desired pattern. Carpet stones are a great alternative to paving slabs, they consist of a number of small cobble-like blocks that are bound to other with a plastic mat and they are fast to install in patios in awkward or intricately shaped patios.
Poured-in-place concrete are also being used for patio paving, they are costly effective, but concrete slabs usually crack and split during the short to medium term.
Porcelain paving
is from the family of block with qualities that can ensure you an intact surface for a lifetime. Their beauty also made them increasingly popular choice among both designers and homeowners and their exceptional strength and resistance to staining would keep your patio like the day it was just installed there.
The concrete paving slabs are also prepared in different colors and finishes which can be used for patios too and would provide both classic and modern look to it.
Sandstones
are also an option for paving patios.
Sandstone
Paving is highly popular among customers and they are ethically sources and are available in different colors and are considered as durable options too.
Finally, the combination of slip resistance and attractive finishes has aided their popularity to what they are today and all these products have given the people the opportunity to get what matches to their demands.