which is better for bathroom tiles or marble
bathroom tiles

Marble is a natural stone that is formed from calcite, dolomite or limestone, featuring fascinating swirls and veined patterns on the surface.
Marble is a natural stone that is formed from calcite, dolomite or limestone, featuring fascinating swirls and veined patterns on the surface. Marble stones can easily be milled, machined and tumbled, which means this stone has been widely used for designing homes from dining rooms to bathrooms.
Marble tile bathroom
Among all the options that are available, honed finished marble is a smart choice for shower walls and curbs, and they are also used along the lower wall surroundings the tub. However, marble is not considered as the best choice for children's bathroom as they are prone to be etched when get exposed to acidic materials, moreover as a porous stone, marble tiles are prone to be stained, which means it requires a good care.
And inevitably, water resistance is an essential quality when it comes to
bathroom tiles
. Marble tile is durable and easy-care, and it is dominantly installed in bathrooms, where frequent water splashes are available. Furthermore, marble tiles are also extremely durable and highly unlikely to crack as a result of everyday wear and tear. Wet marble is always darker in color, and most often white marble turns into gray and stay gray since they get moisture, so with a sealer, no more water would leak into the tile , but it can also prevent water from evaporating out of the stone especially floor or wall tiles.
Meanwhile,
marble
tiles consists of a single seamless shower lining, and such an arrangement can make leaks rare or even impossible with the right preventive measures. On the other hand, tiles are composed of minerals like, silica, quartz and feldspar which were baked at high temperature, with an ultimate coating with an external glaze, tiles have a low water absorption rate with adequate durability. Some tiles can be manufactured to mimic other materials, such as natural stone and wood, and they can be made to look nearly identical to marble tiles too. As regards leaking, the multiple gaps which are dominant between tiles make leaking nearly inevitable.
Plus, grout cannot hold out the water in the long run, this way water will get into the walls which means it can destroy sheetrock and lead to costly repairs. Fortunately, glazed ceramic tiles illustrate a practical protective layer to be used in bathrooms, which is a noticeable advantage when your bathroom floor becomes wet with soap and water.
As regards the beauty, nothing beats the look of natural marble tiles, and although marble tiles are available in different forms like faux marbles which resembles the look of a natural stone to some extent, it cannot take the place of it. Marble stone is also versatile and it comes in a variety of colors, designs and finishes options which offers a very spectacular look to your bathroom. Marble stone is acclaimed for its beauty, style, and elegance, this material has graced the many reputable construction during the history, making it an upscale, luxurious option for interior design. Different marble finished will give different looks, as polished
marble
is used to achieve a glossy finishes, and honed marble can be used for the places where matte, rustic textures are in demand.
It is also worth to mention that, using marble for your new shower surround requires just enough time to position a small number of solid panels and that is why one can use his shower as soon as possible. On the other hand, tiles are available in different sizes, finished, colors and shapes and there are a broad spectrum of design options available with ceramic tile. That is what makes tiles the final choice for homeowner to find bathrooms tiles as one perfectly complement their existing design theme.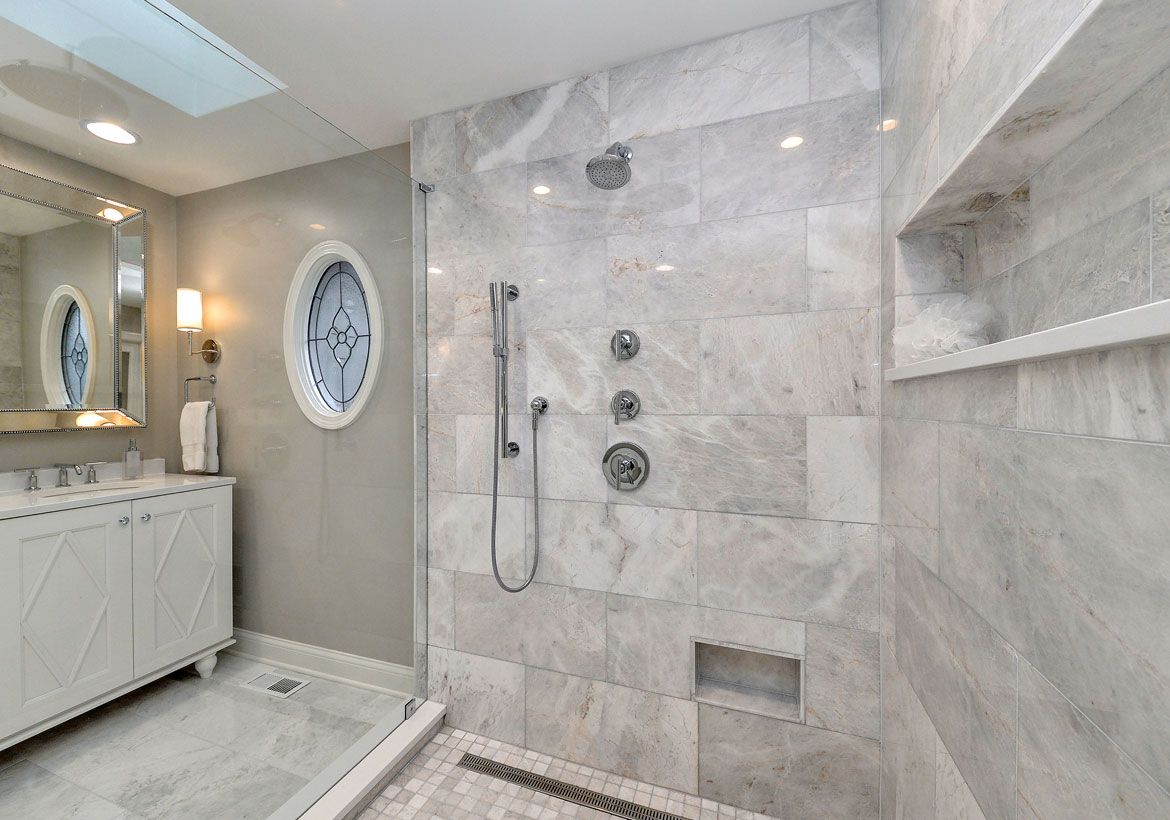 It is also worth to mention that one should consider installing an underfloor heating system underneath the tiles, which stems from the fact that ceramic does not retain heat well and this way one can add thermal comfort to his floor. Although installing tiles may be similar to installing other marble tiles, anyone who has had a shower installed is totally aware that, it takes a long time to position each tile correctly and grout them properly. Marble tiles offer easier installation as compared to for example porcelain tiles and they are easier to maintain than marble tiles.
Are marble tiles good for bathrooms?
As a maintenance procedure, marble tiles should be cleaned regularly with a mild liquid dishwashing or stone soap. Soapless cleaners are better because they minimize streaks and film. On the other hand, tiles don't require much this way as they are naturally easy-to-clean. When they are used in bathrooms as they are prone to stains and spillages, one should assure to set a regular cleaning of their tiles a top priority. But marble tiles require more maintenance and are more susceptible to damage than other tiles. Overall, Elevate your bathroom with the elegance and durability of marble tiles for your shower surround. Not only will one get in love the style that it offers, but he also shouldn't worry about leak prevention and repairing in the long run.
There are a plethora of tiles available and they all vary in type and cost. It becomes a little tricky to choose a right tile for a right place, from thousands of designs and colors. The cost of bathroom tiles largely depends on the design and brand of it, but as a natural stone, marble stone in most cases is more expensive than tile. But some lower grade natural marbles are cheaper than some tiles, consisting parceling. In comparison to other materials like marble, tiles are more affordable and despite the fact that tiles are cost-effective they bring value to your bathroom. Overall, by taking the advantage of marble tile, one can actually increase a home's resale value, and can also see an exciting return of his investment by considering it.
So, based on the abovementioned qualification, one should notice which item would come as the ultimate chice of his bathroom.For more information and better results, do not hesitate to
contact us
.
Hunterpavers
would be happy to help.