Stone wall tiles design for exterior

With a great subtitleBased on their understated versatility of sandstones and fantastic choices available, they are among the iconic products that must be used in all exterior designing projects.
Stonewall tiles can be standard size tiles or large format ones which are so popular for exterior designs, and they have a pattern, texture, and 3d design and can add interest to every place that takes the advantage of them.
Property owners tend to spend more money for them because of their impressive appearance and they are popular because they work seamlessly in an outdoor environment. They are also believed to be the ultimate design for the exterior and by noticing them one can ensure to have a huge impact on the overall vibe of the area.
The exterior is one of the most important spaces that could give the desired first impression in any home, so having your perfect wall tiles there can help give this space the look you've dreamed of, from modern styles to classic, traditional looks.
Whether you use stone wall tile for your exterior, they'll be sure to revitalize any space and it couldn't be easier to use their contrasting colors to give a range of deep black or warm vintage multicolor color tones.
The other reason for their popularity is that as they come in a range of on-trend designs they are perfect for those who want to bring some style to their exterior space and transform the old design into something more eye-catching.
Sand wall tiles can give your facade an outstanding look and they should always be designed with the overall look of the architecture. Sand wall tiles are strong, durable, and budget-friendly, and they can make the facade exceptionally elegant and classy. It is also worth mentioning that these tiles are easy to clean and maintain and are versatile enough to be used in different designs, with almost all kinds of colors and designs available to compliment your interiors, and the choosing of the right wall tiles for the outside of the house is vital. Contrary to common belief, the enthusiasm with which people buy their house is considerably affected by the outside look that they face, as it is the first thing that visitors see before seeing anything else.
But there are some steps that must be considered during their installation, first, you should ensure that the substrate you're attaching the tiles to is suitable. It is also a must to ensure they're installed using a water-resistant adhesive, and also make sure that they're level and will bear the load of the tiles you're fixing to them first.
An exterior home designer with his specializes in beautifying the outside area of buildings, by using stone wall tiles helps property owners to have an outdoor setting that matches both the architectural style of their property and also the style they are looking for. The functions and the way the exterior looks are the most important characteristics of a building that despite being classy needs to be sustainable and durable as well.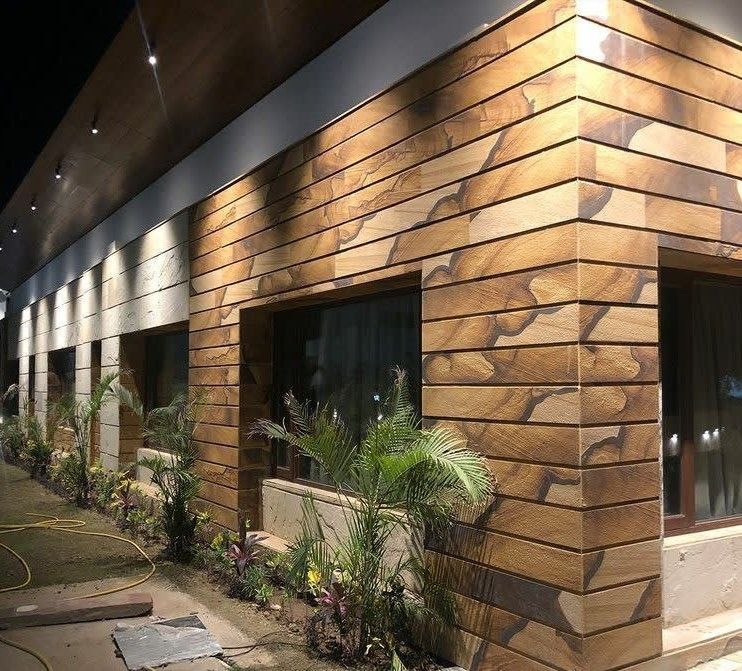 Taking the advantage of natural wall tiles is one of the best secrets to designing and decorating a place that would add so much value to your properties with minimum investment and materials. By a smart choice among the items that are available in the market, one can ensure have a design that aligns well with their sense of style and brings out the best look for the house.
Stonewall tiles
are available in a variety of finishes, like natural riven which is the ultimate in luxury and will give a dynamic atmosphere in any exterior design with its unique surface. Meanwhile, you should notice to take care of them properly if you want to keep them secured and looking good for years to come.
For the facade design, nothing beats the natural beauty except mid or small-sized stone wall tiles.
That is why they are commonly used in different parts of the world consisting of Australia and they gained huge popularity and have turned into the trendiest patterns of exterior designs in the last few years.
They are sometimes superb which gives your design a classy, antique, and European look and that is why many homeowners are opting for it, and will never regret taking the advantage of them there.
Another fantastic benefit that they offer is their cost and based on the merits that they offer, they are incredibly cost-effective.
These materials are also long-lasting and without any compromise on quality, one would enjoy their presence on their exterior walls. There are plenty of options available, and the property owners can choose different styles, and colors in different sizes for their needs and as versatile products they also come in different designs, for instance, for classic design floral patterns are commonly used and from ancient times till modern-day wall tiles with these patterns have stayed popular and are both eye-catching and breath-taking products. Based on their understated versatility of
sandstones
and fantastic choices available, they are among the iconic products that must be used in all exterior designing projects.