sandstone rocks for landscaping
Sandstones are commonly used in building materials and architectural features, but because of their natural beauty

Sandstones are forms of sedimentary rocks that are found in numerous areas around the world, they are created when grains of sand, as well as other minerals, are cemented together over time, and they can withstand the demands of the elements and time.
They are commonly used in building materials and architectural features, but because of their natural beauty, they can add value to your property whenever they are considered in landscape designing. Sandstone rocks are used in flooring and paving of outdoor areas because of their strength, they can also be cut and polished to produce decorative features like outdoor fireplaces.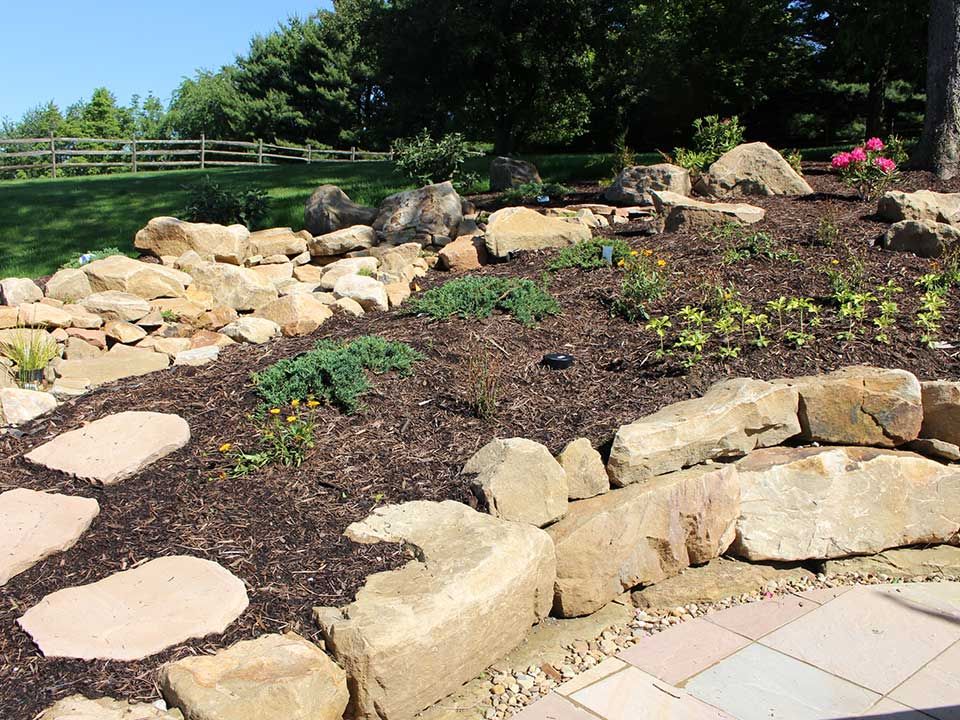 Sandstones
work well for outdoor applications and as they are resistant to acidic and alkaline materials, they are also found in exterior flooring and walls, which can add height to your garden landscape. Sandstone rocks are easily found in different sizes as they can easily be broken, the quality which makes them ideal for everyday use outdoors and also paving.
Sandstone works in every corner of your outdoor landscape
, and you can find outdoor furniture, such as garden benches or patio tables, made of material.
Since sandstone rocks are highly resistant to salty environments they can easily be used around pools and making a fountain made of sandstone can create a definitive focal point in your landscape.
Based on their innate characteristics, sandstones look like layers of sedimentary material, and often a shade of tan or brown is distinguishable inside them. They are visually appealing to the eye and whenever these excellent additions are used in landscape areas, they would ensure a natural feel and spectacular texture.
Landscape designers make a contrast between the whole area and lighter sandstone rocks to highlight and draw the attention of the eye and give an amazing texture to the area. Meanwhile, edging an area with sandstone rocks can prevent grass and weeds to spread in the area.
There are also some tricks in using them which makes your landscape even more eye-catching, for example whenever they are used in the adjacency of a particular plant, the eyes would be pulled to that spot, or using them in odd numbers can give a more natural feel, also large pieces of them are good choices to give the desired texture to a particular area, and their usage on slopes can prevent erosion by controlling water flow, and reducing the speed of it to the extent which is enough for the ground to absorb water.
Sandstones that have been carved can be used as pavers and, stepping stones as well as a seating area. One can have a clean appearance by taking on color sandstone in the landscape, but for a more sophisticated one, a mixture of colors should be considered.
Different considerations should be noticed before using the material for landscaping and all pros and cons must be considered well to end with the demanded look along with to have a practical area. Your purpose and preferences play pivotal roles in this aim.
Sandstones
are commonly used for this goal, but as a versatile option one should get in touch with experts to have the perfect ones that really go with his desires. In case you have a garden and you don't have time for its maintenance sandstones may be your best option.
For example, by using them as your paving material you will ensure to have a surface that will remain intact for a lifetime and in case any damages happen it can be replaced by a new one easily and without cost a fortune. And also like the bare soil you are not supposed to take the advantage of mulches in order to stop unwanted plant growth and also be concerned about entering soils into your pool, and in these cases, they are a great choice to keep your garden looking in top condition in all weather conditions.
Sandstones are easily installed in your garden to give an amazing garden path, and they could also be used as a retaining wall which can be practical and also add beauty to your garden. They are also weather-resistant and in different parts of the world with extreme weather conditions they can withstand water and absorb minimal water, and they will guarantee a lifespan of more than a year under extreme conditions and when they are regularly cleaned and sealants are used considerably more.
Based on the fact that they are one of the most versatile items, they give you a wide choice, and it makes them ideal for different landscaping purposes. They are also slip-resistant and that is why they favor uneven and rippled texture, which makes them so popular for garden pathways and patio steps. Moreover, they are easily cut into different shapes, and that is why for different purposes consisting of the patio, garden walls, and different flooring, designers use them in their projects.