Can you put fire pit on Travertine?
Travertine is a type of limestone that is created by rapid precipitation of calcium carbonate, known as calcite. Other minerals mix together with the calcite to create unique swirls and movements that give the travertine its distinctive character
Travertine and its characteristic

Travertine is a type of limestone that is created by rapid precipitation of calcium carbonate, known as calcite. Other minerals mix together with the calcite to create unique swirls and movements that give the
travertine
its distinctive character. Travertine stones are sophisticated materials and at the same time, they give a sense of elegance to outdoor areas. And because of that, people tend to take the advantage of them in patios and stair treads most often, moreover they can be used as a resurfacing material. In contrast with precast pavers and concrete ones that offer an average life of 10 years, these natural outdoor travertine tiles are usable for more than a century which will probably outlast the life of the building. Travertine is among the most durable and rugged natural stones and by just sealing it every two years you will make sure that it will stay looking fresh and will be kept from damages.
Where to use travertine?
Travertine is a versatile product choice as it has many different finishes to help you achieve the look you are going for, but the good news about travertine is that you are not going to worry much about the maintenance procedure of Travertine, as this fabulous material will still look great even when you put fire pit on travertine, and this quality makes Travertine very popular to be used in patios and garden pavers where very often you may put fire pit on travertine. Travertine tiles are durable because they are resistant to heat and are non-flammable so in addition to adding value to your home they can withstand significant changes in temperature which happens when using a fire pit so you can decorate it with any type of color, style, and pattern with travertine tiles and give your fire pit a rich distinctive look with an antique touch that occurs due to this stone's timeless appearance, and using a travertine floor is an effective way to enhance the beauty of any outdoor space.
Why use Travertine in your houses?
Travertine is cooler than many counterparts including concrete ones, the quality which comes from its porous nature. Such quality fits well with safety requirements as you shouldn't be worried about hot summers, or even in case you have decided to put fire pits on travertine. Intriguingly, they are non-slip and by regular
sealing your travertine
, people can ensure a surface that is not going to be molded and deteriorated easily. However, in case its surface becomes wet it might become slippery, so when you plan to put a fire pit on travertine, for a safer experience, property owners should be totally concerned not to leave travertine surface wet. One solution to prevent such problems is the implementation of a non-slip coating. Overall, travertine drives a hard bargain, as it looks spectacular, and is extremely functional when it comes to design, but in comparison with many materials and because of a few reasons they tend to be a costly material. Travertine tiles will look sharp for a long time even when they are exposed to heat which could be from fire pits or sun and does not fade away as time passes, and unlike many other materials, they can tolerate weathering and erosion.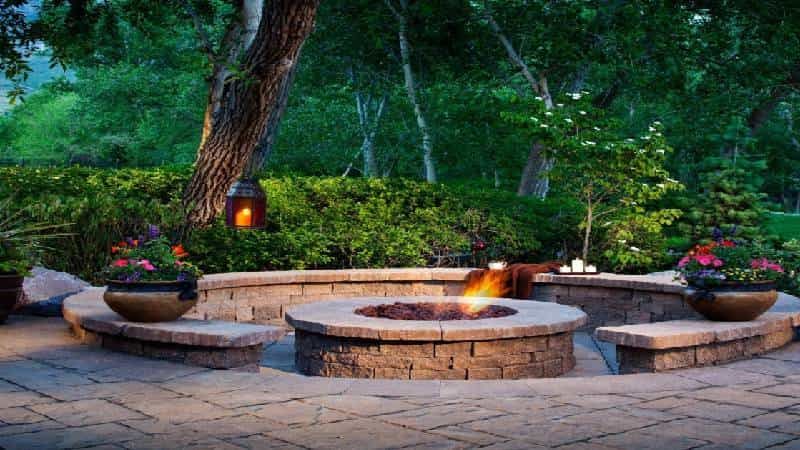 What are fire pits?
Fire pits are trendy options that are great choices to spend time with family members, entertain with friends, or even have me time. Among all the reasons which turn them into a must, they can add value to your property and improve the usability of your landscape. Temporary fire pits can be moved easily, and that is why you may put fire pits on the surface of the travertine in your patios. So in case you are moving your fire pits frequently, you should be cautious not to make unsightly patches of flames on the surface of your stone. Despite the fact that fire is not going to damage your travertine seriously, there are a few ways to ensure a better look at your surface for a long time. For example, you can place brick pavers on the top of your travertine, or any other sort of protection that can actively protect your precious natural stone. Another important factor that impacts the location of the fire pits is safety, and no matter where to put them, they must be away from trees, and any type of flammable structures. More importantly, in case your patio is made up of travertine you should be concerned about the use of a fire pit that is made to be used in a patio setting with natural stone. And in case you are not sure about whether you can put a fire pit on travertine, you can easily ask our experts at hunterpavers for more details.
Considerations regarding the use of fire pits
In some cases when you ask our experts to put a fire pit on travertine, you might be asked to prepare a fireproof surface under your patio fire pit, moreover, you should care about preventing sparks from causing any fires. When you put a fire pit on travertine in your patio you should also worry about safety. Keep your fire contained and always keep a bucket of water nearby so you can put out any stray flames. Another important factor regarding a more convenient experience when you put a fire pit on travertine is how big it would be. By considering the proportional size of your porch, you can ensure not to construct an area that will take over your space. For a better look at your property, the fire pit should also go well with the design of the area including how your travertine will look after its installation. However, you should keep a balance in using fire pits, and a 3 feet wide fire pit is recommended for normal applications. In most cases fire pits are used in patios where it will be a great addition to get-togethers, parties, and family events, and by placing your fire pits on travertine stones of your patios, designers should keep in mind a convenient space, where people are not too close to each other that might be dangerous in case fire may harm your skin, and leaving extra spaces can give you the opportunity to upgrade your furniture or pull up a few extra chairs that can create a more relaxing area.
The popularity of fire pits
Among all the commodities that are commonly used in houses, fire pits are very popular as it provides an area for getting together and meeting. They can also dress up a drab yard with mesmerizing flames that can grab the attention of anyone in the surroundings. Despite all the advantages that these hot commodities offer, people should be concerned about where to use them like in case you put a fire pit on travertine. Property owners should also be concerned about local regulations, construction requirements, and maintenance procedures of underneath materials. One area which can prevent the potential damage of flames on the surface of natural stones is to put place away from hazard-prone zones and unfavorable winds, and by identifying the prevailing wind direction you can ensure not to place fire pits in the areas where strong winds can make problems. The type of material from which your fire pit is built is also important, and regarding where to use the fire pit there are a plethora of materials that are suitable for such intentions. During the early stages of choosing your fire pit and its underneath, you should be well-informed about a couple of questions, as they can help you choose the most suitable material, and also be well-informed about the considerations for a safer and more convenient experience. For example, whether you want to use it for regular cooking, or for its warmth in meetings and weekends because more frequent use of them can harm the surface underneath. And in case fire pits are put on concrete, bricks, pavers or natural stones like travertine different considerations should be noticed. And finally, when you become totally informed about your aim regarding the implementation of them, you will become surprised about numerous items that are available for such aim.
Fire pits as focal points in your areas
Individuals in different parts of the world are looking for a unique sense of beauty and a focal point in their design, and fire pits are known as a must-have item in every designer garden, as they provide warmth, you may relax as you stare at them for a while. In case they are permanent or portable, they can have different impacts on the surface where you put them on, as permanent fire on their surface can have more damage on the surface of the stone in comparison with portable models. Overall, fire pits work with wood, propane, or natural gas and each item offers different feelings, and based on its temperature can have different impacts on the surface underneath. In case you are using portable fire pits, you can put fire pits on travertine without concerning about the damage it might have on their surface. although wood-burning fire pits can give a sense of classic, it is not environmentally friendly, and on the other hand as propane, and natural stone ones do not create smoke, are easier to clean they are considered in many situations. Other items including lighting can also have a great impact on the way in which the combination of a fire pit and a natural stone like travertine underneath can become more iconic. Taking the advantage of ambient lighting has become trendy during the last few years, and when property owners tend to put fire pits on the travertine, this sort of lighting can create a charming and excellent look. Simple strings could be a perfect accompaniment too, and light posts could also be an option too. So, a good combination of stone, fire pit, and lighting can play a very important role in achieving an excellent look that anyone dreams to achieve.
Put a fire pit on the travertine
Travertine is a sedimentary rock that falls into limestone categories, and there are different types of travertine in the market, and first-grade travertine offers property owners uniform thickness that has been perfectly cut. However, as a porous stone, it needs to be sealed to protect its natural beauty. However, when you put a fire pit on travertine for a long time it may create shades on its surface. Such qualities turn Travertine pavers into very practical items, and as Travertine can adapt to extreme temperatures, there is very little chance of your pavers being damaged when you put a fire pit on travertine. It is also worth mentioning that the travertine floor is durable, and you can expect it to still look good even after many years. It is a great investment, and you really won't have to do much when it comes to the maintenance of the pavers. All you need to do is to wash them off every once in a while and seal them to avoid stains.