What is Limestone Gravel good for?
Also in some projects you can find outdoor furniture's or decorative elements like statues made out of limestone. In this article our main focus is on understanding the various uses and advantages of having limestone gravel in projects.
Limestone is one of the popular sedimentary rocks that can be found all over the world. This natural stone is made out through composition of calcite which is one of the calcium carbonate minerals. due to one of its formation processes, limestone is known to be a biological sedimentary rock. Most of the times, limestone is formed out of the organic debris such as accumulation of shell, coral, algal, fecal, and etc. the environment that limestone is shaped in, needs to be shallow, soothed, warm and clear marine waters.
Limestone has many features like availability, appearance and vast color pallets; these features has made it to become a versatile natural stone that has many applications in different projects. For instance, limestone can be used in both indoor and outdoor project and designs. For example, landscape architects use limestone in their projects in shape of slabs, tiles and limestone gravel. Also in some projects you can find outdoor furniture's or decorative elements like statues made out of limestone. In this article our main focus is on understanding the various uses and advantages of having limestone gravel in projects.
What is limestone gravel?
Gravel is known to be a loose aggregation of rock fragments. Gravel naturally is produced through sedimentary and erosive geologic processes; also it can be produced artificially in large quantities as crushed stones. Based on the definition that we mentioned, most of the natural rocks can be available in shape of gravel to. Limestone gravel is one of the beneficial types of gravel.
The vary small size limestone gravel, is often used as a soil additive to improve nutrients for gardens, and also reduce acidity. Limestone gravel is a dense material so when these stone fragments get larger in size they can be good for paving driveways and walkways, as a ballast for railway tracks, and also as a base material for concrete and tarmacked roads and driveways.
Due to the durability of limestone gravel, recently, it is popular to use this material for covering the top layer of a gravel driveway; in this way you can save money to because compared to other materials, limestone gravel is cheap and readily available.
Popular ways for using limestone gravel in surfacing
Just as we mentioned limestone can be used in forms of slabs, tiles or gravel in so many ways, including the following situations:
alongside cement, water and sand, limestone gravel is often used as an aggregate in concrete mixtures

limestone gravel is a suitable material base for roads. It can provide enough strength and withstand the weight of vehicles driving over it. also compared to some other materials, limestone gravel has a smooth texture and it is a budget friendly material that can be found almost everywhere. limestone gravel doesn't expand or move so can be a good bedding for underground pipework.

In residential projects, the limestone gravel can make an excellent base for patio slabs and driveways.

Due to its nature and texture, the limestone gravel is famous to be a perfect drainage material. limestone gravel is highly durable, so it can make a great ballast for railways.
Driveways and use of limestone gravel
limestone gravel can be used for covering both base and top layer for driveways. It can also be combined as part of a concrete driveway, a resin bound or even a resin bonded driveway. A layer of limestone gravel is a good bedding in for slabs covering the driveway, or it can be seen even as a top layer that covers the basic gravel driveway.
Generally, there are few stone materials that can present all the benefits and requirements that limestone gravel has. These features have made limestone gravel to be one of the favorite materials used by driveway contractors, as they can meet the expectation of their standard material offerings.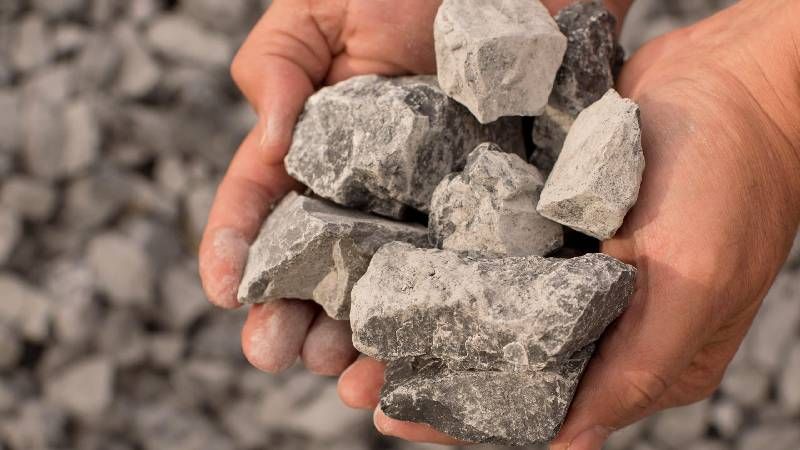 Properties of limestone gravel
limestone gravel is a product that comes from limestone blocks. So basically it has all the feature and properties that limestone has. In below we will name and discuss about them:
Accessibility and budget friendly
Limestone is known to be the most common available rock on Earth's surface and forms a huge part of the quarry industry in many countries, which means that limestone products like limestone gravel is available to be purchased almost anywhere. Due to easy plentiful access, the limestone gravel product is inexpensive and affordable.
Just do not forget that if you are looking for a rare driveway material, firstly it will be more expensive than limestone gravel. Secondly, the limestone gravel is ubiquitous al available all over the world, so it can't represent the uniqueness that you are looking for.
Appearance and aesthetic appeal
Despite the fact that limestone gravel is available almost everywhere, it can be used for so many different purposes and with the vast color choice that you have, you can turn the limestone gravel to be seen as an attractive material in different areas of your projects like driveways. The most common and natural shade of limestone gravel is light cream and honey colored stones; therefore, they can perfectly go along with colors in the gardens.
Also you should know that this range of color won't easily appear dirty and with their light color, they can present an attractive area in your projects. If you are interested in dark color tones, you can find darker limestone gravel that presents a dramatic look in your projects. If you are looking for a specific color, the limestone gravels can also be dyed to.
Durability
As we mentioned many times, limestone is a material that is harder than many stones. This feature has helped the various use of limestone gravel in the construction industry. due to ability of withstanding heavy weights, the limestone gravel can be a suitable material for driveways. The limestone gravel will remain in its place more easily on your driveway than lighter gravel, so it will not get harmed and become crushed under the weight of your car.
Care and maintenance
Maintenance of limestone in any shape is easy. For example, as for slab and tiles you just need to use water and a soft cloth but because of limestone's texture that contains calcium, you shouldn't use acidic detergents on them. Also in open areas, limestone can react to acid in rain water, and get damaged over time.
Disadvantage of limestone gravel
limestone gravel can sometimes be jagged and have sharp edges which makes it uncomfortable to walk on, and it can even do damages to your car tires. So this can mean that, it is wise to use sharp edge limestone gravel not as the cover layer of your driveway, but as a base layer only.
Hunters Pavers have been a paver, blocks and retaining wall supplier in Australia for a long time. Here we always try to provide the information and content that you need to know about various types of natural stones, as in this article we discussed "limestone gravel". If you have any more question regarding to our limestone products, contact us. Our professional experts can give you consultation and they will help you in any way they can.