How to tell the difference between marble and porcelain
Porcelain vs marble
Marble and porcelain are both popular materials for home decoration. There are so many good tile choices out there that it can be hard for a homeowner or any other customer.
Marble and porcelain are both popular materials for home decoration. There are so many good tile choices out there that it can be hard for a homeowner or any other customer to make a decision on whether to buy porcelain or marble tiles.
The marble material has a smooth surface and a good texture when touching, and it is relatively easy to see in our daily life, as it heads the chart when people aim to go for a new option for their preferred decoration. But as they cost a fortune some families prefer to go for porcelain tiles when they choose their items. Before you choose one over the other, it's important to know the pros and cons of each so you can make an informed decision. Both materials come with their own sets of merits and demerits which we will discuss here.
Uses marble
Marble tile is the general name of limestone with various colors and patterns. Marble tiles have the advantage of looking natural and unique. In terms of decoration effect, the most remarkable feature that designers are looking for is naturalness.
Meanwhile, this natural stone product is mined from quarries which means no two marble stones would be the same in appearance, and they usually come in gray or cream-colored with darker veins running through them, which are rich in patterns, delicate in texture, and generous. To make tiles,
marble stone
is sized and cut, then polished and finished on one side to create a uniform surface and thickness.
After polishing, it will be very beautiful, and each piece of texture is different, naturally generated, smooth and delicate, which can set off a more elegant home. Thanks to their smooth surface, marble tiles are well known for their usage in high-end buildings as they can give a luxurious feel. Marble is not only beautiful but also has many advantages.
Marble
has high hardness and does not deform, marble tile has a natural and even structure, which will not deform and crack in the process of use. However, care for marble tiles can be time-consuming and costly, and it is porous and requires regular applications of sealants to remain resistant to stains and dulling.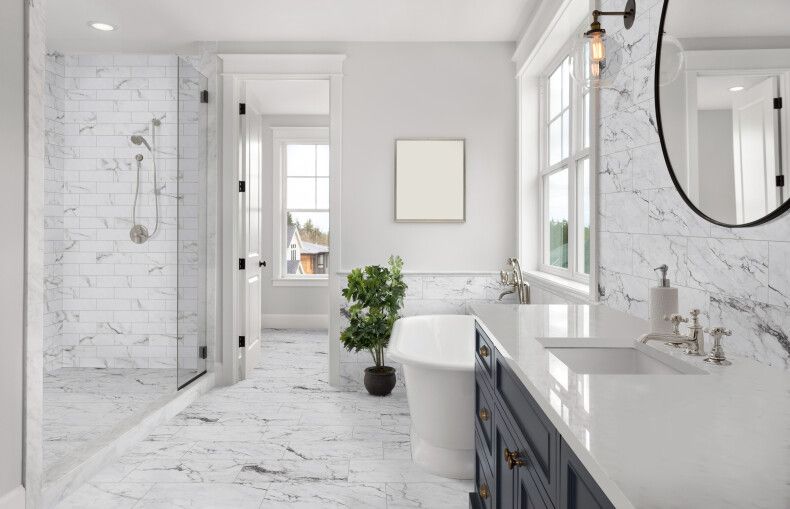 Porcelain tiles, on the other hand, are manufactured from clay and offer a wide variety of colors, textures, and patterns. Due to the synthetic firing process, porcelain tiles are less absorbent, thicker, and more durable, and thus suitable for even flooring. More importantly, caring for porcelain tiles is easy, as few cleaning solutions will harm them significantly, and also the fact that porcelain tile price is lower than that of marble.
However, its pattern has no natural effect of marble, and when it comes to crash their function is much worse than marble, and its surface will be smoother after being stained with water. However, these days there are porcelain tiles that are made to look like marble which are spectacular icons for those who desire the durability of porcelain tiles and also aesthetics of marble tiles at the same time.
In terms of maintenance, marble and porcelain tiles are two popular materials. When it comes to the porcelain it is highly dependent on the porcelain tile you choose. Most often, highly textured porcelain tile can become chipped easily and are difficult to clean, and as porcelain tiles can be hard to match years later, one should be careful to maintain them properly.
Porcelain tile that looks like marble
Marble tiles have a significant impact on the price of your home later, but only if they have been installed and maintained properly. On the other hand, as porcelain tiles are more common and they cost less, porcelain floors don't have a big impact on resale value.
Porcelain tiles need a special grout, and that is why they are harder to install, and they are heavy materials which means they may need a substrate to support the weight. Marble tiles are considered heavy stones too and they will need to be laid out before the actual installation to get a visually appealing vein pattern throughout the whole design. Meanwhile, deciding to lay porcelain tiles or marble should be selected according to users' interests.
For those who are looking to make a universal appeal, marble tiles could be a wise choice. However, porcelain tiles can also provide a way to make a design uniquely yours. When it comes to water absorption, porcelain tiles are less absorbent and they are resistant to frost especially if they are glazed, and in comparison to marble tiles, they are also more durable as they can withstand moisture and harsher weather conditions.
So, because of the fact that marble absorbs moisture, they are not recommended for humid areas like kitchens or bathrooms, as it would result in warping and deterioration over time.
Porcelain vs marble cost
But is worth mentioning that, with proper cleaning, maintenance, and regular sealing, marble tile will stand up to regular wear. Highly-polished marble surfaces require regular sanding and polishing, often best done by a professional, in order to stay intact in the long run.
Marble tile is typically more expensive and porcelain tiles are more affordable for people from different walks of life. Moreover, no matter what sort of tile you have chosen, the shape of the floor, pattern or complexity of the design, and the size of the tiles will have a crucial impact on the final cost and the customer should notice that the more complicated and cutting edged design will lead to the more expensive project.