Cheap Pool Tiles
Your Go-To Company for Cheap Pool Tiles
There's no such thing as cheap pool tiles you say? Not true. It no longer has to cost you an arm, a leg, and a kidney to renovate and retile your swimming pool.
Our position as one of the largest importers of natural stone and tile products in Australia, and our prominence as a bulk buyer of Australian-manufactured products, we can procure vast quantities top quality, cheap swimming pool tiles.
At Hunter Pavers, we go above and beyond to bring you the best quality products at the lowest prices. You can now tile your pool to your heart's content without any danger of breaking the bank.
What Sets Hunter Pavers Apart Regarding Pool Tiles in Sydney?
Our service, our products, our people, and our prices set us apart in every way. You will be hard-pressed to find comparable quality products at better prices than ours. We've scoured the globe – and Australia – to find you the best products at affordable prices.
We pride ourselves on the quality of our products. Just because they are cheap does not mean that they are inferior in any way. We've gone to great lengths to secure top quality products from our suppliers in Australia and around the world.

We proudly support Australian artistry and the Australian labour economy by supplying the best in Australian manufactured masonry and building supplies. By buying from us, you will be doing the same.

Our customer service is beyond compare. Whether you are a DIY enthusiast, a tradesman, or a private homeowner looking to renovate, our team of technical consultants are always at the ready to provide you with relevant and practical product and application advice.
Common Mistakes People Make Regarding Pool Pavers in Sydney
We agree that generally speaking, the old adage that buying cheap costs more, in the end, is true, but not when it comes to our products. We supply the highest quality swimming pool tiles in Sydney at greatly reduced prices.
We are a direct importer of top-quality natural stone and tile products from top international manufacturers. We are also a prominent buyer of Australian-manufactured products. We buy in bulk, and we deal directly with the manufacturers, cutting out the middleman and carrying over massive savings to you, our customers.

All our suppliers around the world and in Australia comply with our strict quality protocols on artistry and materials. We ensure that every product we sell is of superior quality and we do not accept second best. You can rest assured that you will have the last laugh when you use our cheap pool pavers.

We've opted to have only the one, conveniently located factory outlet in Newcastle instead of all over Queensland. This allows us to save even more and to once again pass the savings on to you. We've instead concentrated on expanding our online reach, which allows you to conveniently peruse and buy our products from the comfort of your home.
What You Can Expect From Hunter Pavers Regarding Pool Tiles in Sydney
We have the widest range of pool pavers in Newcastle available right now. Whatever your budget or style, we have you covered with top-quality affordable tiles for your pool. If you are looking for cheap pool tiles for sale, you've come to the right place.
Prompt and friendly service is the name of our game. From the salesperson to the delivery guy, you will receive excellent service. We are here to help, no matter what you need. We accept nothing short of full customer service satisfaction.

Have a question? Need some advice? We've made it very easy for you to get in touch, with multiple avenues for you to make contact with us. Whether you call, email, or come into the store to speak to a technical product consultant, we are here for you.

At Hunter Pavers, you can always expect the widest variety and the most options. We've ensured that there is something for everyone. No matter what your budget or taste, we are sure to have it in stock. And if we don't have it, we'll order it for you.
Pool design
Sometimes you have a wonderful experience of a pool or a spa that has made a great memory for you also you are always thinking of repeating it. How good it would be if you could create the space you want in your backyard so that you can spend a few hours in good quality with your loved ones after a hard day's work. With proper design, you can add to the beauty of your home and create memorable memories for yourself and others.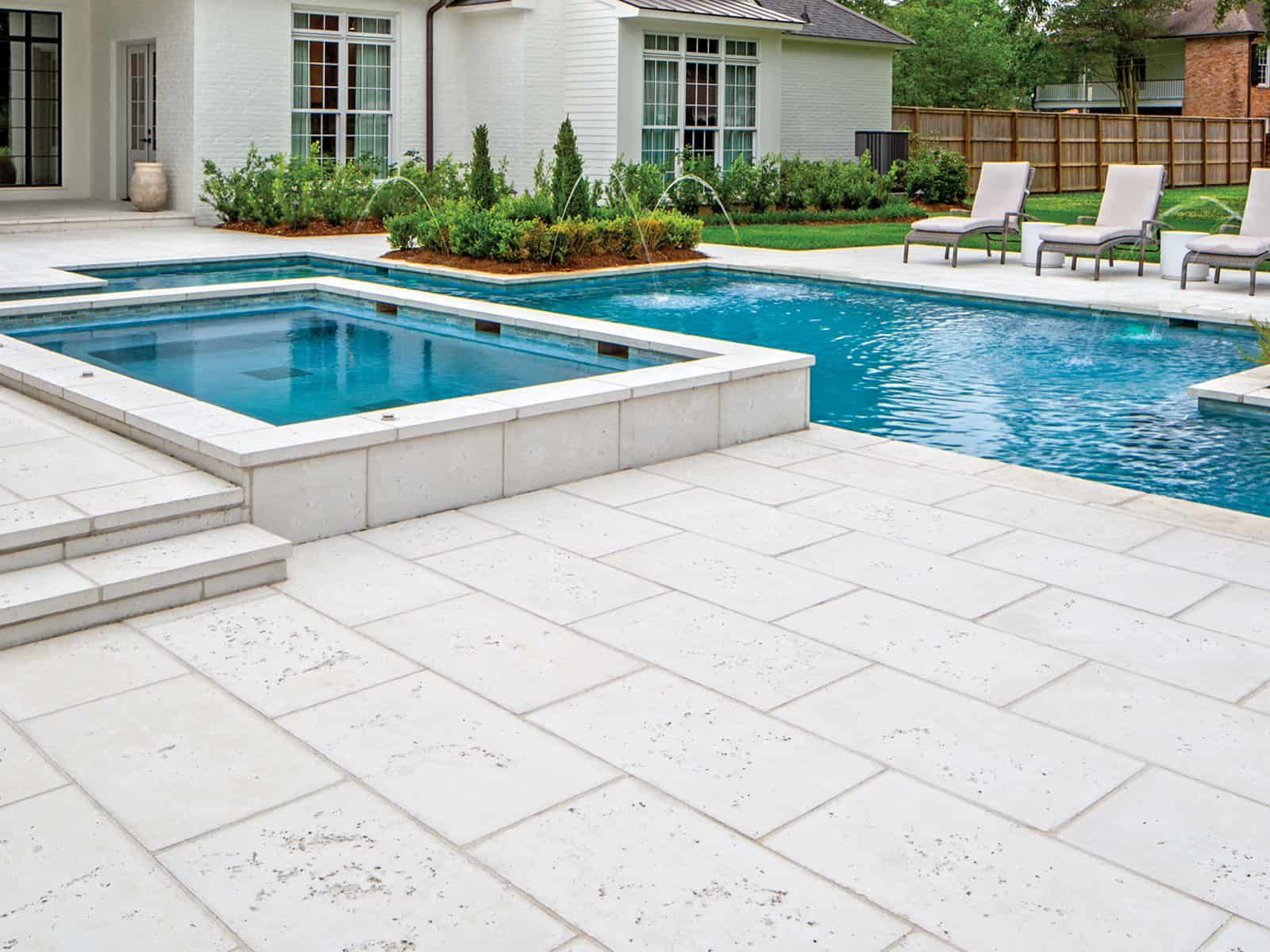 Pool paver
Pavement plays an important role in the beauty of the pool. Beautiful decoration of the pool and spa as well as a beautiful green space can make this happen for you. Of course, tiles and paving play a very important role in this regard. Choosing suitable and beautiful tiles for the pool has a great impact on its beauty and appearance.
Pool tiles
In our collection, by providing various tiles in different designs and colors, we give you the necessary assurance in terms of variety in selection. Also, if you are looking for high-quality tiles, our collection guarantees quality and comfort while providing quality tiles with stylish and excellent materials and textures.
Pool tiles quality
The right material is a very important feature in the production of paving and tiles for swimming pools. The materials must be suitable and durable so that in the many years that they are used, they will suffer the least damage and give us the most and the best quality. Due to the sensitivity of their application, Escher tiles can lead to slipping or rot during their lifetime. That is why it is very important to use the right material in making these tiles.
Pool tiles in Sydney
If you are looking for the beauty of the same quality in Sydney and Australia, our collection is the right choice. In our collection, we help you to have a great pool and spa by providing high-quality and beautiful tiles and paving in the same variety.
Pool paving importance
The paving chosen around the pool is very important. Because in addition to security issues, it is also very important in appearance discussions. Which should have features that set it apart from other caps. This stone, like the capstone, must be strong, impermeable to water and moisture, have pores and damage, and have low degradability. In addition, it must be non-slip, thick, and resistant to cold. It should be free of any gaps and sharp corners. One of the most important parameters for the stone around the pool to ensure the safety of the project is the type of processing. It is better to use a high-quality stone; To prevent slipping.
Pool paving in "hunterpaver"
To be able to have a proper design for the space around the pool and your privacy, you need to know the appropriate, quality materials and tiles. In our collection, we guarantee quality and variety by offering a wide diversity of designs.
Travertine in pool paving
Travertine stones are the most common type of stone in outdoor paving. These stones, depending on their gender, usually bring you good use and a sense of satisfaction. This is because this type of rock has little impact on the environment.
About Hunter Pavers
Get premium products and premium customer service for a better price. Why settle for less when you can have the best? In the two years since our formation, we've become a major supplier of natural stone products, tiles, pavers, masonry products, and building supplies in Sydney. We stop at nothing to ensure you get what you need to complete your project in time and within budget.
Our convenient and easily navigable website makes online shopping a dream, with hundreds of products right at your fingertips, and quick and easy delivery options to ensure that you get what you paid for, and fast.
Contact us today for more information.