8 important pros and cons of limestone flooring
limestone flooring is the most common application among that list. In this article we will discuss about its features and list of pros & cons when it comes to having limestone flooring.
Limestone is one of the famous sedimentary rocks that can be found all over the world. It is basically made out of calcite which is one of the calcium carbonate minerals. Limestone, need to form in shallow, soothed, warm and clear marine waters. This type of environment is where organisms capable of forming calcium carbonate skeletons or shells can easily extract the needed ingredients from ocean water. commonly limestone is a biological sedimentary rock, formed out of the organic debris like accumulation of shell, coral, algal, fecal, and etc. After the animals die, the remain of their shell and skeletal debris accumulate as a sediment that have the potential to turn into limestone. also Their waste products can contribute to the sediment masses and help the process. Due to its availability, appearance and color pallet; limestone has become a versatile natural stone that can be used for various applications. For instance, limestone can be used for wall cladding, paving, counter tops and etc. limestone flooring is the most common application among that list. In this article we will discuss about its features and list of pros & cons when it comes to having limestone flooring. Limestone FlooringWhen it comes to choose a suitable tiling floor material of any space that you want, natural stones can be among one of the three most recommended materials. Also among the list of natural stones, Limestone has many features that has made it to be a popular choice, especially when it comes to paving floors. For example, limestone flooring tiles are durable and they can be available in many beautiful color pallets. For better understanding this natural stone as limestone flooring tiles, in below we will name and address it features more:
Limestone Flooring Advantages and Disadvantages
Main Advantages of Limestone Flooring
Durability
Due to the formation process of limestone, it has a tough texture which makes it to be a durable material. For better understanding, limestone is not durable as other natural stones like granite but it is known to be more durable than soft wood flooring options. Note that if maintain it well, your limestone flooring can last long due to its mineral composition. Also as we mentioned, in comparison to other natural stones, limestone is not very durable so you may see descriptions about it as a soft stone but in reality it has proven to stand the test of time.
Pricing
Compare to other natural stones like marble and granite, limestone flooring tiles are way cheaper. So if you are on the hunt for budget friendly tiles, you will probably find limestone in a range of prices that are more flexible to your budget. Also, just because limestone flooring tiles can be cheap doesn't mean they won't last long. You should keep in mind; limestone flooring can be bit tough to maintain because it gets stained easily.
Appearance
Looks and appearance is one of the key element important to everyone. So If you want to choose among natural stone, limestone flooring tiles can be a suitable choice for you. Also it good to know that unlike other natural stones such as marble and granite, limestone flooring does not feel sterile. Due to their color pallet and texture, limestone flooring tiles can add warmth to your place. They can be available in many colors pallets from beige leaning to pink and bluish grey, white and ivory which gives them a layered look. Remember whether you are looking for a rustic design, a modern and elegant one or just a fusion of traditional and contemporary interior style; limestone flooring tiles can be a perfect and suitable choice for you. It is highly unlikely but if you get lucky, you might spot the fossil of a marine animal in your limestone slab and tile which can add aesthetic appeal to your product.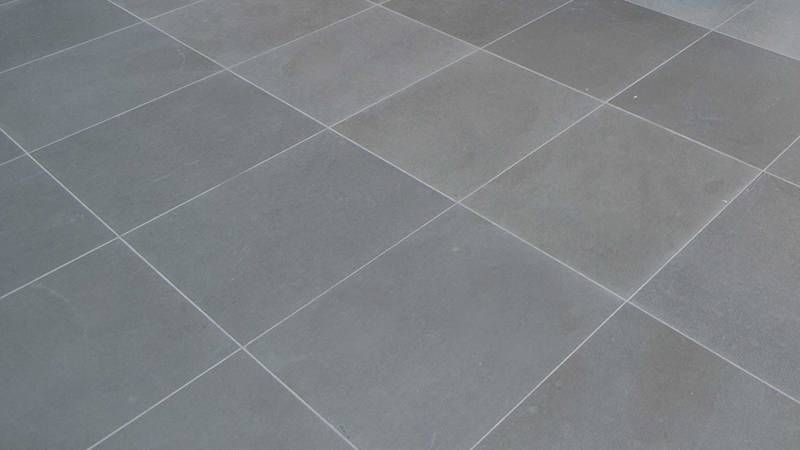 Eco-friendly material
Now a day that everyone is looking for different ways to help and conserve their environment, there is no better feeling than knowing that your renovation or construction materials are eco-friendly materials and they can't do any harm and damage the planet. Being eco-friendly is another advantage in having a limestone floor. In comparison to the commercial slabs, limestone flooring tiles do not contain any harmful chemicals which means that this natural stone complies with environmental regulations and it can be disposed safely. Another advantage to having limestone flooring, especially for smokers is that this natural stone is not flammable.
Main Disadvantages of Limestone Flooring
Needing proper Maintenance of limestone flooring
Limestone flooring tiles need a relatively regular maintenance. You should keep in mind that when you are cleaning limestone flooring tiles, the floor should be regularly swept with a soft broom or vacuumed to ensure any grime and dust is removed. for better care for your limestone flooring tiles, professional's advice is to seal their surface with a proper sealer and increase its longevity. Remember that if anything spilled on the surface of your limestone flooring tiles, you should clean it as soon as possible. Because due to the porous texture of this natural stone, it will leave stain marks. The good news is that there are some natural stains on limestone's texture that can hide these new stains you have caused. But if you want to keep it looking perfect, you should use some special limestone cleaner products. But if you want to stick to water, you should make sure to wipe the tiles down regularly. The acidic chemicals can harm your tiles. With all that being said, you need to have in mind the maintenance aspect of limestone flooring more often than other natural stone flooring tiles.
Relative Pricing
As we mentioned before, limestone flooring tiles are cheaper in comparison to other natural stones but if you are open to choosing artificial materials, you can choose among options like vinyl or ceramic which makes limestone look expensive!
Softness
limestone is a porous natural stone which means that the limestone flooring tiles can chip easily compared to other natural stones; especially in places where there is a lot of foot traffic. Due to this feature, it is not wise to use limestone flooring tiles for hallways and commercial kitchens. If you insist, you should at least seal and treat these tiles regularly.
Weight
Like many other natural stones, weight of the slab and tiles can be a problem. For instance, limestone tiles can be an interesting idea but the larger the tiles get, they are quite heavy and you need to account for that weight with respect to flooring. Also the heaviness of the tiles makes transportation difficult and if you are not careful enough, they can easily be chip and cracked which makes installation hard and tricky.
In conclusion, based on various features that we mentioned having limestone flooring tiles can be a perfect choice for you, you just need to carefully understand their pros and cons. Hunters Pavers have been a paver, blocks and retaining wall supplier in Australia for a long time. Here we always try to provide the information and content that you need to know about various types of natural stone, or as in this article "Limestone Flooring". If you have any more question regarding to our limestone products, their use or how to maintain and seal them, contact us. our professional experts will help you in any way they can.